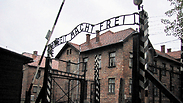 Auschwitz-Birkenau has become a symbol of Nazi Germany's genocide of European Jews
Photo: EPA
The Vatican has pledged 100,000 euros ($125,000) towards preserving the former Nazi death camp Auschwitz in southern Poland, the site's museum said Monday.

"Given our limited resources, the amount is small," Vatican Secretary of State Pietro Parolin said.

"But it is an expression of our full support for the Auschwitz-Birkenau Foundation" that oversees the upkeep of the former camp, where the Nazis gassed hundreds of thousands of prisoners in occupied Poland during World War II.

Never Forget

Steven Spielberg, Ronald Lauder and Haim Saban join organization of memorial ceremonies marking 70th anniversary of Auschwitz-Birkenau liberation.

The Vatican is the 31st state to donate to the foundation, which has received 102 million euros in pledges, including 60 million euros from the German government.

Wartime pope Pius XII has long been accused of remaining silent in the face of the Holocaust and the mass murder of millions of Jews.

But Pope Francis defended him in June, saying he did not know why everyone "picks on" Pius XII and the Church.

The pontiff also criticised Allied forces for failing to bomb the railway lines that led to the camps.

Auschwitz-Birkenau has become a symbol of Nazi Germany's genocide of European Jews, one million of whom died at the camp in the city of Oswiecim from 1940 to 1945.

More than 100,000 others including non-Jewish Poles, Roma, Soviet prisoners of war and anti-Nazi resistance fighters also died there, according to the museum.

More than one million people visit the museum each year.