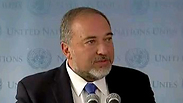 Liberman talking to reporters
Foreign Minister Avigdor Lieberman slammed Mahmoud Abbas on Monday, after the Palestinian president accused Israel of committing genocide in Gaza. Abbas, Lieberman asserted, has "lost touch with reality."
Liberman's comment was made in Hebrew, when responding to questions from Israeli reporters. The foreign minister then translated his answer, using a milder language, saying that Abbas has "lost his way."
Lieberman's press conference ( )
The Palestinian president's speech, Lieberman said, "really was a message of hatred and incitement."
"It's clear that he has no intention to make peace with Israel and it's not the first time," Lieberman said. "We remember Mr. Mahmoud Abbas in Annapolis with Prime Minister Ehud Olmert and Secretary of State Condoleezza Rice."
Continuing his scathing criticism of the Palestinian leader, the foreign minister also questioned whether or not Abbas still had the legitimacy to speak for the Palestinian people.
"It's clear that he has no control over the Gaza Strip and he postponed his elections for more than four years – presidential and parliament elections – and I have some doubts regarding his authority," he said.
Abbas "failed with all his domestic issues, he tries to resolve his domestic problems with escalation in his rhetoric, here at the UN on an international arena. But it is clear that he has no support and he lost his way," Lieberman continued.
Addressing what he termed as "the reasonable solution between us and Palestinians", the foreign prime minister said "we are trying for many years to achieve a strategic breakthrough in our relations with the Palestinians, but it doesn't depend only on Israel. We need a reliable partner from the other side and I'm sorry to say that we don't have a reliable partner from the Palestinian side, and it's a problem."
Lieberman asserted Israel has proven its desire and willingness to achieve "real peace, not as a lip service but in real actions" when it signed peace agreements with Egypt and Jordan, giving up territories three times the size of Israel in these accords.
"We withdrew from the Gaza Strip until the very last inch according to the '67 line, we evacuated 21 flourishing settlements and we transferred more than 10,000 Jews from the Gaza Strip. The result is that we suffered more than 18,000 missiles and shells on Israel since the disengagement, since withdrawing from Gaza," he added.
Mohammed Ishtayeh, an aide to Abbas, responded to Lieberman's comments, saying: "If Lieberman and his government seek peace, why they are building settlements on our land? They left no land without settlements, no land for the Palestinians to live in."
Ishtayeh added: "Lieberman was trying to cover the war crimes his government committed in Gaza, but we have prepared the indictment list to take Israel to the ICC," using the acronym for the International Criminal Court. "We are going to build an international coalition against the Israeli occupation and its crimes, particularly building settlements on our land."
The foreign minister also touched upon the deal taking shape in nuclear talks between Iran and world powers. The deal would allow Tehran to retain its ability to enrich uranium.
"It's a bad deal, and we have experience with what is a bad deal and you can take an example from North Korea. For us, it's completely unacceptable," he said, adding that "if Iran achieves nuclear capabilities, the immediate result will be a crazy nuclear arms race in the Middle East."
Israel, he said, was ready for any contingency. "We are monitoring, we are following and keeping all options on the table."
The Associated Press contributed to this report.