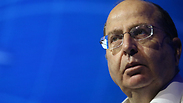 משה בוגי יעלון ב כנס הסייבר הבינלאומי תל אביב
Photo: Motti Kimchi
Ya'alon reiterates: Israel chose not to topple Hamas during Gaza op
After Netanyahu says 'ISIS is Hamas and Hamas is ISIS,' Ya'alon says it would have been wrong to dislodge Hamas' hold on Gaza; while IDF representative to indirect Gaza talks said: There was a dynamic of deterioration, we failed to understand Hamas.
Defense Minister Moshe Ya'alon said Israel was right in not trying to topple Hamas' regime in Gaza during the last operation. He made the comments after Prime Minister Netanyahu told the UN that "Hamas is ISIS and ISIS is Hamas."

Speaking in Tel Aviv, Ya'alon reiterated that during Operation Protective Edge, Cabinet ministers voted not place Hamas' destruction at the heart of the IDF's mission.

"It would have been mistaken to give the army the directive of toppling Hamas, not even in retrospect," Ya'alon said, warning though that Hamas' presence in the West Bank was a growing and destabilizing phenomenon.

"The moment it evolves into Hamastan then it won't be just Hamas. It will be an Iranian branch for the global jihad. Who can accept such a situation in Judea and Samaria (West Bank?" he rhetorically asked.
Dynamic of deterioration
Israel and Hamas – together with representatives of other Gaza militants factions - are set to hold indirect talks on a reaching a long term political solution in Gaza.

Brig.-Gen. Nimrod Shefer, who is a member of the Israeli delegation to talks, reflected on the conflict in Gaza, saying "none of the sides wanted the conflict to extend 51 days. There was a dynamic of deterioration.

"Each side misread the other's intention and there was miscommunication between the sides. We failed to understand Hamas as a system."

Shefer, who also heads the IDF's Planning Division, said that the mission's goal was not dismantling Hamas, but rather returning to the pre-operation status quo: "The operation's objective, as it was formulated by the Cabinet, was a return to the status quo prevalent before the conflict broke out – namely, calm in the south and Hamas still in power."

Regarding the military's ability to follow this directive, he said that "maneuvering was limited but defenses were strong and that attacks were very accurate. The goal was to return the quite to the south on the basis of Hamas being the soverign in Gaza – proof of that is that the IAF used only a tenth of its strength, and ground forces also worked at a relatively low level. "

Shefer also addressed the issues of Hamas' terror tunnels, and said Israel was caught slightly off guard regarding its extent.

"In a sense the challenged posed by the tunnels was new to us, despite the fact we knew they existed. I'm not ashamed to say we learned a lot about neutralizing tunnels during the operation, and developed new methods under the assumption it would take four days, but it took much longer."