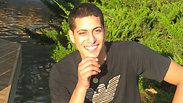 'This was not a work related accident'
Netanel Roi Arami (Photo courtesy of the family)
The police suspect that a 26-year-old Israeli construction worker who fell to his death two weeks ago was actually murdered for nationalistic reasons, it was cleared for publication Tuesday.
The victim, Netanel Roi Arami, owned a construction company contracted to do exterior work on a hi-rise building in central Israel. During the fatal day, Arami was rappelling along the side of the Petah Tikvah building in order to seal vent openings when both his cables snapped and he fell 11 stories to his death.
"This was not a work related accident, Netanel was a professional," his family said at the time, and now it seems the police could agree.
Over 50 workers were at the site of the time, the majority of which are Israel-Arabs and Palestinians, as well as a few Chinese nations, but none have been arrested. The workers, for their part, claim his death was an accident.
During the investigation all were quested about their whereabouts and if they know anything about the suspected murder or who was behind it. Their stories were crosschecked and none were arrested. The police say the investigation continues and all investigation leads are being followed.
Hamudi, one of the workers who was at the site at the time, told Ynet that "we are all friends here, we don't differentiate between Jews and Arabs, we're all the same. I'm sure it's a work accident.
According to an initial investigation, Roi Arami left his home in Moshav Ahiezer, said goodbye to his pregnant wife and two children and proceeded to the site. There, he and a group of other rappellers worked on the side of the building, sealing the air ducts of the building's security rooms.
The team had finished, but Roi Arami was still working. The crew worked their way down and waited in the car for his arrival.
When he failed to show up they began to search for him and were horrified to see he was no longer on the building. A few minutes of additional searches led them to his lifeless body.