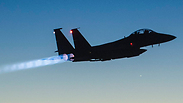 Airstrikes hit Kurdish areas in bid to stop ISIS push
Photo: AP
Activists say the US-led coalition has struck targets of the Islamic State group near a besieged Kurdish town along Syria's border with Turkey.

It was not immediately clear if Tuesday's airstrikes succeeded in halting the militants' advance on Koubani, also known as Ayn Arab.

The Britain-based Syrian Observatory for Human Rights said the strikes hit Islamic State fighters east and west of Kobani. The Local Coordination Committees, another activist group, also confirmed the airstrikes on the town's outskirts.

Related stories:

Koubani has been under attack by the Islamic State group since mid-September. Despite US-led airstrikes, the militants were able to advance toward the town over the past few days.

Militants of the Islamic State group were closing in Monday on a Kurdish area of Syria on the border with Turkey – an advance unhindered so far by US-led coalition airstrikes, including one that struck a grain silo, killing two civilians, according to activists.




Islamic State fighters pounded the city of Koubani with mortars and artillery shells, advancing within three miles (five kilometers) of the Kurdish frontier city, according to the Britain-based Syrian Observatory for Human Rights and Nawaf Khalil, a Kurdish official.

The Observatory says fighting around Koubani on Monday killed 57 fighters on both sides - the town's Kurdish defenders and the Islamic militants.