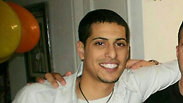 Netanel Arami
Courtesy of the family
"My son was murdered because he was Jewish, there's no other reason," said Miriam, the mother of Netanel Roi Arami, who fell to his death two weeks ago from the 11th floor of a building under construction in Petah Tikva.

The Arami family held a press conference on Tuesday afternoon, after police suspicions the death was not an accident were made public earlier in the day.

"I call on all government branches to put a stop to those who slaughter us. It's as if we're in a shooting range. No one knows who's next," she said, clarifying that the family "knew this was a murder and not a work accident from the get go."

Police suspects Netanel's murder was nationalistically motivated.

Miriam urged for the capture and the execution of judgment of the perpetrators. "Let Netanel be the last victim. If there's no deterring punishment, this would not be the last case. All of these cover-ups won't help. The people are not stupid."

Miriam also criticized the police's handling of the family. "They come to tell the family and they find a woman with a baby in her arms, and she collapses, but they ask her to come straight to the station so she could sign off on the autopsy. There's no emotional support from the police. They have to also show sensitivity," she said.

"The people of Israel support us, and came to the shiva (Jewish 7 days of mourning), and continue supporting us. We don't get support from the government or any other authority. No one from welfare or the municipality came to visit us," Miriam charged.

Netanel's father, Rabbi Uziel Arami, also spoke at the press conference, saying his son was "not a private victim. He's a public victim that belongs to all Israelis. We see what's happening out there - one time it's an attack with a truck and another time with a tractor. Stones are thrown at kindergartens and there's graffiti in support of Hamas and ISIS. We don't want another victim like Netanel. I'm asking for the truth to be set free, and for things to not be covered up."

Choking on tears and struggling to speak, Netanel's widow, Muriya, turned to the gathered reporters and asked: "My son is two years old and asking me where dad is. What do you tell a child that age? I tell him that dad's watching over us from the sky."

Muriya, who is pregnant, said her late husband "had no enemies and he was loved by all. He was a full time father, an amazing husband, dedicated, who did everything. I don't know how my children could grow up without a father."

Attorney Hur Nizri from the organization Honenu, who is representing the family, said: "Two weeks ago Netanel Arami was murdered and until now welfare authorities have failed to contact the family. The family was abandoned and was not taken care of by the authorities, while at the same time it needs to bear the pain of a situation likes this - losing what is most precious to them. The family is determined to fight until the truth comes out, and we expect the police to keep the family updated on the progress of the investigation."

Netanel Arami, 26, owned a construction company contracted to do exterior work on a hi-rise building in central Israel. During the fatal day, Arami was rappelling along the side of the Petah Tikvah building in order to seal vent openings when both his cables snapped and he fell 11 stories to his death.

Over 50 workers were at the site of the time, the majority of which are Israel-Arabs and Palestinians, as well as a few Chinese nations, but none have been arrested. The workers, for their part, claim his death was an accident.

During the investigation all were quested about their whereabouts and if they know anything about the suspected murder or who was behind it. Their stories were crosschecked and none were arrested. The police say the investigation continues and all investigation leads are being followed.

According to an initial investigation, Roi Arami left his home in Moshav Ahiezer, said goodbye to his pregnant wife and two children and proceeded to the site. There, he and a group of other rappellers worked on the side of the building, sealing the air ducts of the building's security rooms.

The team had finished, but Roi Arami was still working. The crew worked their way down and waited in the car for his arrival.

When he failed to show up they began to search for him and were horrified to see he was no longer on the building. A few minutes of additional searches led them to his lifeless body.