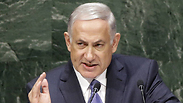 Netanyahu speaking at the UN
Photo: AP
Iran today rejected as baseless accusations levelled by Prime Minister Benjamin Netanyahu that it poses a greater threat to the world than the Islamic State jihadist group.

Speaking on Monday at the UN General Assembly, Netanyahu said that "to defeat ISIS and leave Iran as a threshold nuclear state power is to win the battle and lose the war".

Netanyahu also described the IS jihadists who have captured chunks of territory in Iraq and Syria and Hamas, the Islamist militant movement that largely controls Gaza, as "branches of the same poisonous tree".

Iran's deputy ambassador to the United Nations, Khodadad Seifi, dismissed the accusations as part of Israel's campaign to undermine negotiations on his country's nuclear program.

"The remarks made by the Israeli regime's premier include baseless allegations against the Islamic Republic of Iran and are basically made with the aim of ... justifying the crimes the regime recently committed against Palestinian civilians," said Khodadad, quoted by Fars news agency.

Israel and Hamas in Gaza fought a devastating 50-day war in July and August that killed 2,100 people in the Palestinian enclave and left 73 dead on the Israeli side.

Iran, which does not recognize Israel's existence, supports Gaza militants by providing them the technology needed to make the rockets to fire on the Jewish state.

Tehran is suspected by the West of seeking to develop nuclear weapons, a claim it denies. It is in talks with world powers aimed at reaching a comprehensive deal on the issue by November 24.

Israel has refused to rule out military action against Iranian nuclear facilities to prevent any possibility of it developing the technology for an atomic bomb.