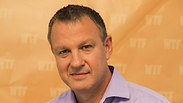 JVP Founder and Chairman Erel Margalit
Photo: Avishag Shaar-Yashuv
Within sight of Jerusalem's Old City stands a modernist building housing one of Israel's most successful venture capital firms, the backer of scores of start-ups over the past 20 years that have generated nearly $18 billion for investors.

Jerusalem Venture Partners has picked a string of high-tech winners over the years despite its location away from the rest of Israel's flourishing industry, which is largely based on the Mediterranean coast north of Tel Aviv.

Last week, shares in cyber-security firm Cyberark, which JVP has been building up for over a decade, surged after their initial public offering on Nasdaq, rising 85 percent in three days to value the company at around $880 million.

With JVP holding nearly 40 percent of the stock, the deal earned investors a nominal gain of $335 million.

That follows a string of other recent "exits", including the sale of CyOptics to U.S. semiconductor maker Avago for $400 million last year, EMC's acquisition of flash storage firm XtremIO for $430 million in 2012 and the $1 billion IPO of QlikTech on Nasdaq in 2010.

Entrepreneurs from across Israel are lining up for JVP funding, especially those in the cyber-security and data storage sectors, where the fund has built a niche and Israel's military-backed innovation leads the world.

"We see about 700 ideas every year, at least a few of them as disruptive as any idea you can imagine," said Kobi Rozengarten, JVP's general partner, who spent decades in the Israeli and US semiconductor industry before moving into spotting and nurturing start-ups.

Founded in 1993 by Erel Margalit, a former business adviser to Jerusalem's mayor and now a Labor Party member of the Knesset, JVP is raising capital for its seventh fund, which will invest $120-150 million in 20 or so companies over the coming 3-5 years, looking for the next high-tech superstar - and if possible an Israeli Google or Facebook.

"One of the strengths of Israeli innovation is that we don't have a local market, so when we build companies we are building them towards the outside market," said Rozengarten, highlighting the growing interest of China, with its demand for cyber-security and data storage capability.

Despite the upheaval in the Midde East, Israel remains dynamic, its innovation partly inspired by the military technology it constantly develops. For investors, the promise of a return is enough to offset any qualms about instability.
China wants Israel
JVP is not without competition - one directory lists more than 80 venture firms in Israel, including the local offices of several high-performing US funds such as Sequoia Capital, Greylock Partners and Lightspeed Venture Partners.

Since the Israeli government offered tax and other incentives for investors to put seed money into venture firms back in 1993, there has been a proliferation in the industry, but few have managed to notch up JVP's track record.

For every dollar put into its first fund, investors got $9 back after five years, while the second had a 500 percent return. There have been bad years too, including 2000, when the dotcom bubble burst, and the 2008 global financial crisis.

While JVP attracts most investment from the United States, there is growing interest from Asia, from where Rozengarten has just returned, meeting investors in Hong Kong and Shanghai.

 

As technology has developed and new areas have emerged, JVP has shifted emphasis, moving away from the communications and networking start-ups it used to finance and focusing on three principle areas: data storage and management, cyber security and media infrastructure.

With the Israeli military a hot-bed of technology investment and innovation, JVP has set up an 'incubator' in Beersheva, a city in southern Israel where the military will soon move its headquarters. Many of the best start-ups in Israel spring from ideas soldiers have while serving in specialist army units during their three years of military service.
Where's Google?
Yet for all the innovation the country has produced over the past two decades - from the flash-memory stick to the Waze navigation program bought by Google in 2013 - it has yet to produce a global success story like Google of its own.

In part that is because the local economy is small - just eight million people - which means hot ideas quickly look abroad, where they are snapped up by larger rivals. Two of JVP's most lucrative deals came early on, including the sale in 2000 of Chromatis Networks to Lucent for $4.5 billion.

Often investors do not have the patience to stay with a company for the long-haul. Well aware that up to a third of start-ups will fail, those that finance companies for 6 or 7 years naturally want to see a return on their money.

That frequently means that at the first opportunity the company's backers will look to do an initial public offering, probably on Nasdaq. It serves both the entrepreneurs and the investors, even if it means floating a relatively small fish.

Rozengarten sees the lack of an Israeli Intel as positive, since it has encouraged broader, more competitive innovation and perhaps prevented an experience like that of Finland with Nokia, where the once-dominant mobile-phone company's near collapse dragged the country's economy down with it.

At the same time, Israeli start-ups are growing in size and becoming more mature. Whereas once JVP would help build up a company to a value of $50 million or $100 million before exit, several are now hitting $400 million or more.

"We are moving towards larger companies, larger valuations, larger exits," said Rozengarten.

JVP's aim is to invest an average of $6-8 million in a company over 3-5 years, working with around 6 companies a year. Investors are paid out in 8-10 years. Experience shows that out of every 10 companies, three fail, three do okay and three succeed, with one a "home run".

Having more money to invest would not necessarily deliver bigger returns for investors, said Rozengarten.

"With a fund of $120 million we do about 20 companies (over 3-5 years). With a fund of $400 million you would have to do too many companies," he said. "If you gave me more money, we would just spoil our entrepreneurs."