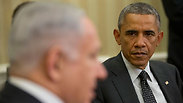 Obama watching Netanyahu
Photo: AFP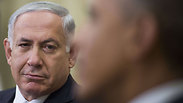 Netanyahu watching Obama
Photo: AFP
WASHINGTON - Despite what you might have heard, the opposite of love is not hate – it is indifference. And despite the American rebuke on Wednesday, this is the true status of the relationship between President Obama and Prime Minister Netanyahu.

In front of the cameras, Netanyahu did not lecture Obama as he has done in the past, and Obama did not needle Netanyahu. Even the private meeting could have gone smoothly, as is the case with people who have no expectations of one other, if not for the "surprise".

Obama chided Netanyahu for Israel's decision to increase its construction in south Jerusalem. "What is your vision for peace?" the president asked angrily. "Such acts only cast doubt on Israel's desire for peace."

It had to be said, not only because the American government is opposed to construction in the territories, but also because for Obama it was a slap in the face. It was barely hours before the meeting, initiated by the Prime Minister of Israel, that the White House learned that the Netanyahu government had approved further construction.

At the bottom line, Obama, like the advisers surrounding him, has been freed from any illusions he might have had regarding Netanyahu. The president has recently been heard to say more than once that Bibi has not disappointed him given that he really had no expectations of him.

Obama knows Netanyahu is not interested in reaching a peace agreement that will end the occupation, and there is no connection between his rhetoric about a commitment to the two-state solution and his willingness (or rather, unwillingness) to actually do something to advance this vision.

Related articles:

But the American president had decided in principle not to confront the prime minister publicly himself. He has enough to deal – the Islamic State, his Republican rivals, the dire predictions that his party stands to lose heavily in the Congressional elections next month.

At their meeting, Obama and Netanyahu took stock of the serious disagreements between them. Obama made it clear that Mahmoud Abbas is, after all, a partner, and it is him with whom Israel has to make peace. Netanyahu remains adamant that there is no one to talk to, and that the conditions for peace have not been created. Obama also rebuffed Netanyahu's new theory that Hamas is like the Islamic State, while Netanyahu insisted that the two organizations are the same.

Both leaders realize that they cannot change one another. But now they just have to sail the ship together somehow.