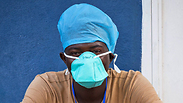 Ebola virus outbreak in Sierra Leone
Photo: AP
Israel has rejected a special request by the US and UN to send IDF field hospitals to Ebola hit Liberia and Sierra Leone. Defense Minister Moshe Ya'alon, who rejected the request, cited the threat of infection to Israeli medical teams in explaining his decision.

The request was lodged by the UN and US, and was passed onto Israel though US Ambassador to the UN Samantha Power and Ron Prosor, Israel's envoy.

Related stories:

The Foreign Ministry recommended the Defense Ministry respond positively to the American's request, even though it was a complex mission, which runs the risk of infection for medical crews, who would have been forced to wear full NBC suits.

The mission was further complicated by the need to provide security for each such encampment.

Despite all these risks, the Foreign Ministry believed that participation in such a mission would help bolster Israel's international standing, which suffered a severe blow in the aftermath of Operation Protective Edge.

However, after examining the request and mission details, the Defense Ministry decided against Israel's participation, saying there was no feasible way to provide for the safety of the Israeli doctors and medical crews, which could then return to Israel and further spread the virus.


Despite the decision – or maybe because of it – the foreign minister decided to up the level of Israeli aid to the Ebola effort.

In explaining their request, the US and UN cited the past success by the IDF's field hospital in natural and humanitarian disasters – like in earthquake hit Haiti or tsunami stricken Japan. The two international powers praised past missions, saying that in these cases the IDF showed its impressive capabilities in dealing with such disasters.

Obama is currently leading the international effort to stop the spread of the deadly virus. Israel has in the past agreed to participate in the effort, and promised to send medical equipment and expert to a number of African countries fighting to quell the Ebola outbreak.