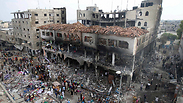 Rafah commercial center destroyed
Photo: Reuters
The Palestinian government on Thursday called for $4 billion to rebuild Gaza, part of a reconstruction plan for the war-battered territory ahead of an October 12 donor conference.

Gaza's infrastructure was devastated during a 50-day Operation Protective Edge, which killed nearly 2,200 Palestinians, while attacks by Gaza terrorists killed 73 on the Israeli side.

A 76-page report, released ahead of the donor conference in Cairo, said $4 billion (3.2 billion euros) would be needed for the "direct costs" of rebuilding the besieged coastal territory.

Related stories:

It would include $1.9 billion for public and private infrastructure repairs, and $1.2 billion for "reactivating economic productivity", according to The National Early Recovery and Reconstruction Plan for Gaza.

The government's priority would be "removal of rubble and removal of ERWs", or unexploded shells and missiles from the war, which it estimated to number 5,000 inside Gaza.

It would then repair Gaza's power station, which was struck during the conflict, and work on access to drinking water, healthcare and education.

The "largest expenditure" would be on housing, it said. More than 100,000 Gazans are homeless after the conflict, which ended on August 26.

The report also urged Israel to lift its blockade on Gaza, which has been in place since 2006.

"Free movement of people and goods will catalyze Gaza, catapulting it from its current crisis into socio-economic sustainability. Freedom of access must be guaranteed. The borders must be opened. Trade must flow. People must travel," it said.

The International Monetary Fund has called for curbs on the movement of goods and people to be relaxed to enable Gaza's economic recovery, and the World Bank has warned of a resumption of violence should the economy fail to improve.

The report also called for an additional $4.5 billion in budget support to the Palestinian government to maintain reconstruction and support government institutions in Gaza and the West Bank.

Rival Palestinian factions Fatah and the Islamist movement Hamas agreed last month on the return of a unity government to Gaza.

Hamas relinquished control of the Strip under an April unity deal, but it remained in de facto control until after the war.