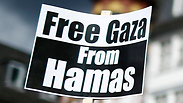 Protest in Germany
Archive photo: Reuters
Public opinion polls conducted by the Foreign Ministry in Europe's three most important countries – the United Kingdom, Germany and France – reveal that its residents hold Israel and Hamas responsible in equal degree for the latest bout of violence in the Gaza Strip.
At least half of the residents of these countries believe that Hamas uses is civilians as human shields, but at the same time, blame the the IDF's disproportionate use of force in the Gaza Strip for the death of Palestinian civilians.
The polls were conducted by the Foreign Ministry's Public Diplomacy Division in an attempt to evaluate how Israel's public relations efforts to disseminate positive information abroad, known as "hasbarah" are being received, and whether there is a need to change or adapt them to different audiences.
The poll found that half of those surveyed in each of the countries said that they had been regularly exposed to the news coverage of the Gaza conflict, 10% of which who said that they tuned in closely. Eighty percent of the respondents in the three countries were aware of the news coverage of Operation Protective Edge in one way or another.
The majority of respondents in the three countries said both Israel and Hamas are to blame for the escalation in the Gaza Strip. Fifty three percent of Germans believe that both Israel and Hamas were at fault for the latest round of hostilities – an opinion shared by 47% of the French population and 39% of the British public.
Fifteen percent of Germans, 15% of the French and 19% of UK respondents lay the blame solely on Hamas. At the same time, 8% of Germans, 11% of the French public and 19% of the British think Israel bears sole blame for the recent violence.
Approximately half of the respondents in each of the three countries believe that Hamas uses its own Palestinian citizens as human shields, including 49% of Germans, 48% of the French people and 51% of the British.
The survey further revealed that the respondents think both the IDF's use of disproportionate force and Hamas's use of civilians to protect it from Israel's attacks are to blame for the death of Palestinian civilians.
Eighteen percent of the German population, 20% of the French and 26% of the British accept the Palestinian claim that IDF troops did not use measures to protect Palestinian civilians, a very problematic piece of data in terms of Israeli hasbara.
Foreign Ministry spokesman Emmanuel Nachshon said in response to the survey's finding that "the Foreign Ministry is keeping its finger on the pulse. The Israeli message is seeping through and is being taken in by the target populations. The Foreign Ministry is constantly drawing conclusions and sharpening Israel's messages abroad."
Atila Somfalvi contributed to this report.