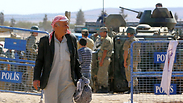 Syrian refugee flees into Turkey
Photo: AP
MURSITPINAR/BEIRUT - Islamic State forces shelled the Syrian border town of Kobani on Saturday and its Kurdish defenders said they were expecting a new assault to try to capture it.

US-led coalition warplanes had struck at Islamic State targets overnight to halt the insurgents' advance and Saturday's barrages were less intense than the previous day.

"Clashes continue now, they are shelling on all three fronts. They tried to invade Kobani last night but they were repelled," senior Kurdish official Asya Abdullah told Reuters from the town on Saturday.

"We think they are planning to launch another big attack but YPG is prepared to resist them.," she said, refering to the Kurdish armed group defending it.

Previous coalition air strikes have failed to stop the insurgent offensive and an estimated 180,000 people have fled across the border into Turkey to escape the fighting around Kobani - a conflict now overshadowing Syria's wider civil war.

Islamic State said they would take the town within days and boasted they would pray in its mosques for the Muslim religious festival of Eid al-Adha, which began Saturday.

In Istanbul, Turkish President Tayyip Erdogan reacted angrily to comments by US Vice President Joe Biden suggesting that Turkey had supported groups in Syria linked to al-Qaeda.

Turkey has up to now been a reluctant partner in the US-led coalition of Western and regional allies and the new dispute could complicate international efforts to present a united front against Islamic State.

The insurgents stepped up their offensive close to the Turkish border last month, seizing surrounding villages and advancing to within a few kilometres (miles) of Kobani, which is also known as Ayn al-Arab.

Islamic State fighters have been trying to capture the town to open a direct link between their positions in the Syrian province of Aleppo and their stronghold of Raqqa, to the east.

Kobani and its surrounding areas have been under attack since mid-September, with militants capturing dozens of nearby Kurdish villages. The assault, which has forced some 160,000 Syrians to flee, has left the Kurdish militiamen scrambling to repel the militants' advance into the outskirts of the town, also known in Arabic as Ayn Arab.

The Britain-based Syrian Observatory for Human Rights, which relies on a network of activists around Syria, said fighting was focused Saturday on the southwestern edge of the town, adding that members of the Islamic State group were shelling Kobani.

From across the border in Turkey, sounds of heavy machine gun fire could be heard coming from Kobani. It was not immediately clear if the Islamic State group had entered the town itself, defended by fighters of the Kurdish People's Protection Units, or YPK.

On Friday, the US-led coalition had launched airstrikes near Kobani killing at least five members of the Islamic State group, according to the Observatory.

Nawaf Khalil, a spokesman for Syria's leading Kurdish Democratic Union Party, or PYD, said the coalition airstrikes near Kobani had a "positive effect" and that the militants had failed to capture a strategic hill overlooking the town after five attacks.

In Turkey, a senior special forces police officer was wounded in the head from stray shrapnel from the fighting in Kobani, reported the private Dogan news agency. There was no immediate official confirmation of the incident. The news agency said the officer was being treated in hospital.

Also on the Turkish side, a group of about 200 activists marched toward the border with Syria on Saturday, chanting slogans in support of the Kurdish fighters in Kobani. Turkish troops stopped the group about 50 meters from the border, then fired tear gas to push them away from the frontier.

Swift offensives by Islamic State since June have sent shockwaves through the region and prompted the United States and its allies to carry out a series of bombing raids to halt the insurgents' rapid advance.

Rami Abdelrahman, who runs the Syrian Observatory for Human Rights, said several hundred people had been killed on both sides since the assault on Kobani started two weeks ago.

The rumble of artillery could be heard on both the eastern and western flanks of the town on Saturday but the barrage was less intense than on the previous day, a witness said.

Coalition warplanes destroyed one insurgent vehicle and killed five fighters during raids in the countryside to the east and south of Kobani on Friday night, the observatory said. Ten Kurdish fighters were also killed in heavy fighting that carried on long into the night.
Angry Erdogan
Turkey has so far taken a back-seat in the fight against Islamic State, who until last month held 46 Turks as hostages.

But their release and a decision by parliament to renew a mandate allowing Turkish troops to intervene in Syria and Iraq has raised the prospect of a more active role by Turkey.

Erdogan on Saturday warned against any attack on Turkish soldiers stationed at Suleyman Shah's tomb, a Turkish exclave in Syria now entirely surrounded by Islamic State fighters.

"If anything happens there we cannot hesitate, and everything will change," he said.

He also reacted angrily to comments made by Biden in which the US vice president said Turkey and other regional countries had been so determined to topple Syrian President Bashar Assad that they had supported extremist groups including al-Qaeda and al-Nusra Front.

"If Biden has used such expressions, then Biden is history for me from now on," an irate Erdogan said, demanding an apology.

He denied Turkey had given assistance to any hardline militant group or allowed foreign fighters to cross the border.

Biden's comments in an address to Harvard University students on Thursday were the strongest yet from a senior US official on Turkey's alleged support for Islamist groups in Syria's three-year-old civil war. Erdogan has repeatedly called for the Assad government to be ousted.

"They poured hundreds of millions of dollars and tens of thousands of tons of weapons into anyone who would fight against Assad," Biden said. "Except that the people who were being supplied were al-Nusra and al-Qaeda and the extremist elements of jihadis coming from other parts of the world."

In Damascus, Assad made a rare public appearance at a mosque to celebrate Eid, a picture from the presidency's official Twitter feed showed.