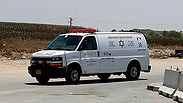 Israeli ambulance transferring Gaza patients
Photo: Reuters
After shocking the Israeli medical establishment and publishing an open letter condemning the IDF, the editor-in-chief of British medical journal, the Lancet, arrived in the country last week and expressed regret for the publication.

During Operation Protective Edge, the Lancet, one of the world's leading general medical journals, published an open letter signed by 24 doctors and scientists, harshly condemning the IDF's activity in the Gaza Strip and calling on the world not to "remain silent while this crime against humanity continues."

Alongside the short version of the letter, The Lancet added an online form allowing readers to join the list of signatories. Nearly 16,000 people have signed the petition so far.

Israel's Health Ministry responded to the letter by demanding that The Lancet remove the online version of the document from its website.

"This letter is a radical, one-sided scandal, which borders on a blood libel," said Health Ministry Director-General Prof. Arnon Afek at the time.

After several weeks of outrage amongst the country's academics, Prof. Richard Horton, who approved the publication of the letter, arrived in Israel.

He toured Rambam Medical Center in Haifa, where he was invited to see first-hand to see the coexistence in the medical establishment, where Jewish and Arab patients treat Jewish and Arab patients, and that asylum-seekers and migrants are also treated.

At a lecture he presented at Rambam, Prof. Horton said the visit was an opportunity to express deep regret for the unnecessary polarization caused by the publication of the letter."

He added that the visit elicited a change in his perspective of the situation in the Middle East.

On Thursday afternoon, Prof. Horton met with Health Minister Yael German at the refugee clinic set up by the ministry in Tel Aviv's Central Bus Station. "The way to deal with different perspectives is only through dialogue and opening up doors," said Director-General Prof. Afek at the event.

Prof. Horton responded that Israel should show its better side more often.

During his visit, the British medical columnist also visited Nahariya Hospital for the Western Galilee, where he met Dr. Masad Barhoum, the first non-Jewish director of a public hospital in Israel. There Prof. Horton met a Syrian patient who spoke of the terrific treatment he was awarded in Israel.

Ahiya Raved contributed to this report.