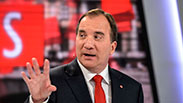 Former Israeli ambassador to Sweden Zvi Mazel
Photo: Reuters
Former Israeli ambassador to Sweden Zvi Mazel told Ynet that the Swedish Prime Minister Stefan Lofven's declared intention to recognize Palestine as a state may provoke a hostile international reaction against Israel.

"Sweden has influence in the world. The announcement will turn the atmosphere against us, but I don't believe France, England and Germany will join in," Mazel said.

Ahead of the Foreign ministry's reprimand meeting with the Swedish ambassador on monday, Mazel added: "The truth must be said – our situation in Europe is grim."

Some European countries had previously recognized Palestine in their iteration as communist nations – when they were ordered to by the Soviet Union. Those countries include Poland, Hungary, Slovakia, and Bulgaria, which recognized Palestine's national aspirations before joining the European Union.

Malta and Cyprus have also recognized Palestine, but they are marginal powers compared to the influential Sweden.

In his speech Lofven said the Israeli-Palestinian conflict must be solved with a two-state solution, negotiated in accordance with international law.

"A two-state solution requires mutual recognition and a will to peaceful co-existence. Sweden will therefore recognize the state of Palestine," said Lofven.

Mazel further told Ynet: "We have a problem with Europe, and Sweden is swaying the European opinion against us. The prime minister is set to be dealt a blow by us and by others. He will delay the decision, but the move he announced will deteriorate our situation."

The former Israeli ambassador to Sweden explained the manner in which the European country's demographic changes influence its policies: "Sweden is maintaining a policy against Israel. It opens its gates to Muslims, who get an absorption basket once they land in the country that surpasses the financial assistance immigrants in Israel receive. Eighty thousand refugees from Iraq and Syria arrived in Sweden just this past year.

"The country said – the refugees are the future of Sweden. We aren't having any more children; the immigrants are those who will produce children for Sweden," Mazel added.

Meanwhile Palestinian president Mahmoud Abbas said the Swedish announcement was "great and honorable" and he hoped other countries would follow suit, according to the official Palestinian news agency WAFA.

Elior Levy and Reuters contributed to this report.