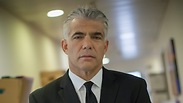 Lapid: Another step in stopping politicization of government companies and reducing corruption
Photo: Ilan Shapiro
Israel plans to issue minority stakes of up to 49 percent in state-owned companies on the Tel Aviv Stock Exchange over the next three years, a move the Finance Ministry said would bring in revenue of 15 billion shekels ($4.1 billion).

The socioeconomic cabinet, headed by Prime Minister Benjamin Netanyahu, on Sunday approved the proposal, which aims to sell off stakes in Israel's electric company, water provider, railway, post office and defense contractors and pay down the national debt.

The move, which is common in many other Western countries, is also expected to develop and strengthen Israel's capital market, the Finance Ministry said.

"This is another step in stopping the politicization of government companies and reducing corruption in the companies," Finance Minister Yair Lapid said.

Netanyahu said the reform would allow for greater transparency for government companies.

Israel in 2015 will seek to sell a minority stake in Israel Natural Gas Lines and the state postal company and privatize Israel Military Industries, the port of Ashdod, and several smaller companies with proceeds expected at 4 billion shekels.

Among the companies planned for privatization in 2016 are the port of Haifa and Israel Aerospace Industries (IAI), which would bring in revenue of 5 billion shekels.

In 2017, the state aims to privatize defense firm Rafael and Israel Electric Corp (IEC), sales that could net some 6 billion shekels.

The ministry said some companies, such as IEC, IAI, Israel Railways, water provider Mekorot, Israel Post and Rafael, would be sold through the Tel Aviv Stock Exchange while others - the ports and IMI - would be sold at one time or in stages in a private sale.

IEC's privatization requires a cabinet decision on a change in the company's structure, while the government will establish a committee to examine how best to privatize Israel Railways.

When Netanyahu was finance minister a decade ago, he made privatization a key part of Israel's move to a free market economy, selling off banks, airline El Al and phone company Bezeq Telecom.