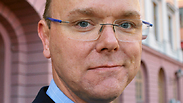 Carl Magnus, Sweden's ambassador to Israel
Swedish ambassador: We want good relations with Israel
Ynet sat down with Carl Magnus, Sweden's ambassador to Israel, to understand why his prime minister was so eager to recognize Palestine; 'I think comments were misunderstood… we want what's best for Israel and Palestine,' says Magnus, who is even learning Hebrew.
"Frankly, I think the Swedish prime minister's comments were misunderstood, and it's a unfair," Carl Magnus Nesser, Sweden's ambassador to Israel, told Ynet in an exclusive interview a day before he will head to Israel's Foreign Ministry to be reprimanded for comments made by Sweden's new prime minister, according to which Sweden will recognize Palestine as a state.

Earlier Sunday, the Swedish Embassy in Israel softened its position regarding the recognition of Palestinian statehood, saying it favors peace negotiation to unilateral recognition of a Palestinian state, after an initial announcement by Swedish Prime Minister Stefan Löfven led to a diplomatic crisis with Israel.

Related stories:

Meanwhile, Prime Minister Netanyahu slammed the move as counterproductive, while Palestinian President Abbas said the Swedish announcement was "great and honorable" and he hoped other countries would follow suit, the official Palestinian news agency WAFA reported.

According to Nesser, "The reports in Israel ignored the true depth and complexity of the issue as well as the bigger picture, and I am glad that I have a chance to explain their full significance." Magnus added he did not want the meeting in the Foreign Ministry to be the first the Israeli public see and hear of him.

Nesser, who is taking Hebrew lessons, sat down with Ynet and said he would have hoped that his first interview with Israeli media would have been in more positive circumstances. He refused to say whether he thinks his prime minister's comments were made out of an attempt to appease Muslim voters in his native Sweden, but said the country had Israel's interests at heart.

"In his statement to parliament Friday, during the first day of his government, the prime minister announced a number of diplomatic initiatives. He covered a number of international issues, including the Syrian civil war, the fight against ISIS, and also the Palestinian issue.

"The prime minister clearly said that there will be recognition (of a Palestinian state), but he also said he supports negotiations, under the principles of international law which will lead to a two-state solution. It is in Israel and Palestine's interest," Nesser said.

The comments echo the clarification statement issued by the embassy earlier Sunday, according to which the "conflict between Israel and Palestine can only be resolved through a two-state solution… negotiated in accordance with the principles of international law."

In line with the statement, Nesser noted that "the prime minister also said negotiations and the final resolution (of the conflict) must guarantee the legitimate demands of both the Palestinians and the Israelis for national self-determination and security. A two-state solution requires mutual recognition and a will to coexist peacefully. Therefore, Sweden will recognize the State of Palestine, that's what he said".

"The Swedish wants to preserve their good and beneficial relations with Israel, and further develop them."
'We are not the first to recognize Palestine'
Nesser noted that as part of the 2012 Palestinian attempt to attain international recognition, over 100 other nations recognized Palestine as a non-member UN observer state.

"Sweden wants a solution that is good for both sides. We are not the first. Over 130 nations have already recognized Palestine, and some of those are EU members, so we are not even the first to do so in the EU.

"I think this is an important message to send to moderate Palestinians and first among them (Palestinian President) Abbas, especially in such a sensitive time. The issue on the table is how the international community can promote a moderate Palestinian leadership, as opposed to a terror group like Hamas."

In a bid to ease the mounting tensions between Stockholm and Jerusalem, Nesser reiterated that his country "wants to continue in good and productive dialogue with Israel.

"The statement's timing came as the peace process has been on hold for some time, and we want to help the sides return to negotiations. The peace process will continue to be part of the Swedish government's priorities which hopes to continue its productive dialogue with Israel."

When asked if Prime Minister Löfven's comments were an attempt to appease the increasingly strong Muslim voices in Sweden, which predominantly votes for the Social-Democratic party which Löfven leads, the ambassador said "I think the Social-Democratic party's work regarding the Israel-Palestinian conflict goes back decades, this issue has been discussed in the party for a long time."

So it has nothing to do with Muslim voters in Sweden?

"This is not a new issue and it has been the focus of attention for some time. The Social-Democratic party has for years said it would support Palestine and won the elections," Nesser responded.

He further rejected criticism at the time of the statement, which came as Israel was observing Yom Kippur, and led some to decry it as insensitive.

"This is a very strange question, because the Swedish constitution dictates when to hold elections and when to form a government, and the fact that it fell on Friday is a pure coincidence," Nesser says.

Why did the prime minister chose to ignore the horrible massacre in Syria and the brutality of the Islamic State group, and focus on Palestinian statehood?

"We join Israel's concern at what is happening in Syria. I used to be the ambassador to Iraq and I have experience in the region. Sweden is working with many other nations to deal with challenges, including humanitarian aid. Sweden donates to many nations, first and foremost to Syria.

"It was also noted in the prime minister's statement on Friday. It is true more attention was paid to the Palestinian issue, but it was part of a very long speech," Nesser explains.