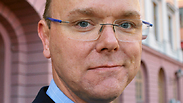 Swedish ambassador Carl Magnus Nesser
Sweden's Ambassador to Israel Carl Magnus Nesser was reprimanded by Foreign Ministry officials on Monday afternoon, a day after the Swedish Embassy in Israel softened its position on recognizing Palestine.

During the meeting, the foreign dignitary was informed that the declaration by new Swedish Prime Minister Stefan Lofven has deteriorated relations between the two countries.

The crisis in ties between Jerusalem and Stockholm erupted after Lofven's announcement in his inauguration speech that Sweden would be the first major European country to recognize Palestine.

The declaration elicited swift furor from Israeli officials, and the Swedish ambassador was summoned for a reprimand meeting at the Foreign Ministry.

The ministry's deputy director-general for Western Europe, Aviv Shir-On, emphasized Israel's objection and its disappointment to the Swedish ambassador.

Shir-On stressed that Israel felt the declaration was not only unhelpful to the relations between Israel and the Palestinians but was actually hurting them, and that it decreased the chance of reaching an agreement as it created an unrealistic expectation by the Palestinians of reaching their objective unilaterally.

The senior Foreign Ministry official also noted to the ambassador that the Middle East was currently in crisis and that – given the bitter battles and horrific massacres observed daily in the region – the choice of the Swedish prime minister to focus on the Palestinian issue was surprising an inappropriate.

The Swedish ambassador wrote down the official's notes and promised to pass them on to his government. The director of the Scandinavian department at the ministry, Amir Maimon, also participated in the meeting.

Though the appointment was described by the Foreign Ministry as a "reprimand meeting," the atmosphere during the conversation was not tense.

The softened position of the Swedish embassy published on Sunday said that, "The conflict between Israel and Palestine can only be resolved through a two-state solution… negotiated in accordance with the principles of international law."