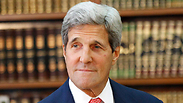 Secretary of State John Kerry
Photo: Reuters
Washington – Secretary of State John Kerry will take part in a conference on rebuilding Gaza, devastated by a 50-day war with Israel earlier this year, a US official said Monday.

Kerry "will be attending the conference" to be held in Cairo on October 12, State Department spokeswoman Jen Psaki told reporters.

The Palestinian government on Thursday unveiled a 76-page reconstruction plan for Gaza, calling for $4 billion to rebuild the war-battered territory, with the largest amount going to build housing for some 100,000 left homeless.

The Israeli military operation in the impoverished Gaza Strip killed nearly 2,200 Palestinians, while attacks by Gaza militants killed 73 on the Israeli side.

The report said $4 billion (3.2 billion euros) would be needed for the "direct costs" of rebuilding the besieged coastal territory. It would include $1.9 billion for public and private infrastructure repairs, and $1.2 billion for "reactivating economic productivity."

The priority will be to remove rubble and unexploded shells, while also repairing Gaza's power station and improving access to water, health care and education.

Last month, the US unveiled an additional $71 million in emergency aid to Gaza, highlighting that "more than 580,000 people are still sheltering in United Nations facilities."

It brought the US total funding since the start of the war to more than $118 million.

"Basic necessities like food, clean water, and fuel remain in short supply throughout the territory," the State Department warned in a September statement.