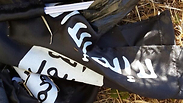 Bag with 50 Islamic State flags?
Photo: Police
A bag containing what seems to be dozens of Islamic State flags were discovered Tuesday morning in a city in northern Israel.

Nazareth Illit city gardeners who were working in the city's Har Yona industrial area, located near the Arab communities of Kfar Kana and Ein Mahil, discovered a bag containing 50 Islamic State group flags between some bushes. The police were called to the scene and so was the city's mayor, Alex Gadalkin, who was disconcerted by the discovery.

The police have begun their investigation to determine if the flags belong to the radical Islamist group currently ravaging Syria and Iraq.

After discovering the big black garbage bag containing, the city gardeners called local municipal officer Udi Elbaz: "I was shocked when I saw these flags inside the bag, and immediately called the police – it's like there is terror activities in the city."




Gadalkin, the city's mayor, said "when something like this is discovered in the heart of a Jewish city in the Galilee it should raise serious concerns."

Police have closed off the area and are currently searching for evidence regarding the flag's potential owners: "It seems someone threw it here. Firstly me need to make sure these are indeed the group's flags, and then see where they came from and where they were going. Though they seem to be (Islamic State) flags," Nazareth Illit Police Commander Shalom Avitan said.

Israel's Arab community has been largely opposed to the Islamic State group, though recent weeks have seen a sense of growing support for the terror group, with a teacher from Wadi Ara being arrested owning flags belonging to the group. In the past, Ynet has reported of an Israeli-Arab defecting to Syria and Iraq to fight with the group.

A number of weeks ago, Defense Minister Moshe Ya'alon deemed the group a terror organization, thus making any open affiliation or sign of support for the group a security offense.