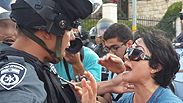 MK Hanin Zoabi
Photo: Mohammed Shenawi
MK Hanin Zoabi (Balad) petitioned the High Court against a decision by the Knesset's Ethics Committee to remove her from the Knesset plenum for six months after she said that the murderers of three teenagers kidnapped in the the West Bank "were not terrorists."

In a petition filed together with ACRI (Association for Civil Rights in Israel) and Adalah - The Legal Center for Arab Minority Rights in Israel, Zoabi argued that the decision was political prosecution, and claimed she did not commit any ethical offense. They also claimed the punishment is unprecedented in its severity.

To reinforce her argument, Zoabi added a list of problematic statements by MKs that went unpunished.

For example, in 2010 MK Michael Ben Ari (National Union) said the leftist Peace Now organization are a "mob of traitors" and said the group was "an evil evasion." She also cited a 2011 incident in whcih MK Eli Aflalo (Kadima) called Zoabi a traitor and a murderer.

Last July, the Knesset's Ethics Committee suspended MK Zoabi from all committee meetings and plenum sessions for six months – the maximum punishment permitted – after her comments inspired a slew of complaints by MKs.

Among those lodging complains against the Arab MK, known for her participation in the Mavi Marmara Gaza flotilla and provocative comments about Israel, where Knesset Chairman Yuli Edelstein, who said that Zoabi published an online article in which she encouraged Palestinians to "declare a popular resistance struggle and blockade Israel instead of returning to negotiations."

He added that she said the kidnappers of Naftali Frenkel, Gil-Ad Shaer and Eyal Yifrach - three West Bank teens who were murdered in June - were "not terrorists." She further claimed that "they were forced to use these measures." Edelstein also mentioned Zoabi's clashes with police at an anti-IDF protest in Haifa.

In the decision, the Ethics Committee said that "Zoabi deviated from the legitimate spectrum of discourse for a member of Knesset. Her remarks contained identification with the enemies of the state." It was further written that her calls for ending the security cooperation between Israel and the Palestinian Authority "were intended to harm Israel and its security."

Zoabi responded to the suspension, saying she would not "surrender to those who do not agree with me and want to silence me, punish me, and even take revenge on me. This is a political decision; it is an anti-democratic decision, a tyranny of the majority, trying to silence a minority voice and opinion."

Zoabi stressed that her suspension was "taken in the fiery atmosphere of war and reflects a fascist, vengeful approach. Instead of defending my freedom of speech and my parliamentary immunity, the committee is actively working to take revenge on me because of my positions, and to punish an entire segment of the public which I represent in my opposition to this criminal war."