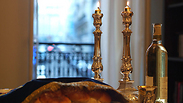 'People can be good, fully observant Jews and still keep up with the times'
Photo: Israel Bardugo
There's been no separation of religion and tech as our mobile devices and gadgets continue to play a significant role in our lives.

In order to keep up to speed with the ever-evolving world of high-tech and apps for pretty much everything – sooner or later there'll be an app to let you brush your teeth or take a shower – there have been several companies that have released apps catered to the Orthodox Jewish market, from Rustybricks' Minyan Now app, to G-dcast's Wake Up world, narrated by Randi Zuckerberg, sister to the illustrious Facebook CEO.

Special Needs

Zomet Institute aims to make it easier for people to observe Shabbat by reconciling Orthodox Jewish law with modern world.

But there has yet to be an app that Orthodox Jewish millenials have surely been requesting: One that allows them to continue to text their friends and stay connected online, despite it being the Sabbath.

Technically, it seemed that such an app would be impossible, as electricity and, consequently, all those high-tech gadgets you use are forbidden to use on the day of rest, Shabbat, except for in life-saving situations. However, there's a group of developers out there who insist they've found a way to allow all of you tech savvy observant Jews keep your thumbs on your iPhones, even during Friday nights and Saturdays.

It's called the Shabbos App, and its founders, who include app developer Yossi Goldstein of Colorado, are preparing to start raising funds via Kickstarter.

According to Goldstein, the app allows users to keep on texting on the Holy days, without violating the rules of Shabbat.

"Our main goal is to let people who are already texting on Shabbos know that they can text on Shabbos and not completely fall off the derekh (path)," Goldstein said in an interview with Orthodox Jewish website, Vosizneias, referring to Orthodox Jews who stop observing their faith.

"Many people are already keeping a half-Shabbos because they find that they can't get off their phones and they feel like once they are already breaking Shabbos they might as well give up on other mitzvos too," he continued. "Hopefully this will alleviate that."

The app, designed by California-based Yitz Appel, has already sparked a bit of controversy in Orthodox Jewish circles, despite not even going live on Kickstarter yet.

Texting on Shabbat is "very distasteful and not permissible on Shabbos," Rabbi Moshe Elefant of the Orthodox Union said to Vosizneiais, whether it's technically a violation of the Sabbath, or not.

According to the Shabbos App website, the app will be available for download on iTunes and Google Play for $49.99 on February 15. It plans to raise $25,000 via Kickstarter.

"In fact, there are lots of things that we, observant Jews keep today that are not based on anything other than some stringencies according to a very small number of opinions," the site reads. "Our goal is to change that and empower people with the knowledge that they can be good, fully observant Jews and still keep up with the times."

Reprinted with permission from Shalom Life .