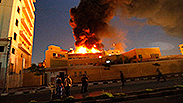 Explosion at French Cultural Center in Gaza
Photo: EPA
The Islamic State group claimed responsibility for a Tuesday night explosion at the French Cultural Center in Gaza City, according to an unverified proclamation published Wednesday morning in the Strip.

The announcement said this was "the debut operation for the Islamic State group in the Gaza Strip."

Around midnight local time, several explosions rocked the French Cultural Center, causing damage but no casualties. The center resides in an upscale new building built two years ago.


The French Cultural Center in Gaza conducts French language courses and transfers visa applications for France from local residents to the French Consulate in Jerusalem for processing.

Due to the late hour, there was no one at the site. Hamas sources rushed to play down the incident and released reports that the center's generator exploded setting fire to gas tanks stored nearby. Meanwhile, the Interior Ministry's spokesperson noted that an investigation was launched into the incident.

Explosion at French Cultural Center

The declaration released Wednesday morning was topped with the recognizable Islamic State group's logo. "Our fighters successfully bombed the center for immorality and heresy known as the French Cultural Center after weeks of surveillance."

The proclamation claimed the explosion was caused by a 200 kilogram payload hidden at the site near the facility's gas tanks. The tanks were intended to supply emergency power to the generators in case of electricity shortages.

Though the announcement attempts to lay claim to the group's first attack in Gaza, it is signed with the incorrect date – October 10 – three days after the alleged attack.

The veracity of the declaration has yet to be verified. While this would be the first time the Islamic State group's claimed responsibility for a bombing in Gaza, other radical Salafi organizations have existed in the Strip for years – operating with the same intent as the Islamic State.

One of these factions was responsible for the kidnapping and murder of Italian activist Vittorio Arrigoni three years ago in the Strip. Hamas has maintained a close watch over these groups who see the Strip's rulers as "too liberal and moderate" and have tried to topple the established terror organization.