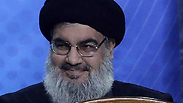 Hezbollah leader Hassan Nasrallah
Photo: AFP
An attack by Hezbollah on Lebanon's border with Israel which wounded two IDF soldiers Tuesday was a message that the group remained ready to confront its old foe despite its engagement in Syria's civil war, the group's deputy leader said.

Two IDF soldiers were lightly wounded by a bomb planted by Hezbollah near an IDF outpost on Mount Dov (or Shebaa hills) in the Golan Heights, drawing IDF artillery fire in response. A second explosion occurred half an hour later at the same outpost, but no one was wounded. It was the first time Hezbollah has claimed responsibility for an attack against the Israeli army since 2006, when the two sides fought a 33-day war.

"This is a message.. Even though we are busy in Syria and on the eastern front in Lebanon our eyes remain open and our resistance is ready to confront the Israeli enemy," Sheikh Naim Qassem told Lebanese OTV television late on Tuesday.

Related stories:

According to Hezbollah's Al-Manar TV station, the attack was in response to the death of Hezbollah militant Hassan Ali Haidar last month in a reported explosion in Aadloun in Lebanon that the organization links to an Israeli intelligence device or UAV attack.

Following the explosion in Aadloun in September, the Lebanese Army released a statement saying that, "At 3:45pm a Lebanese Army intelligence patrol found an unidentified object near the village of Aadloun.

"When the patrol tried to reveal the nature of the object, Israel remotely detonated it, causing the death of a citizen who was nearby. The blast area was closed off for security and an investigation has been launched into the event."

According to reports in Lebanese media, Haider, 25, was a bomb expert who was killed while he and his colleagues were trying to disarm four explosives.

This was not the first time Hezbollah has taken responsibility for attacks in Mount Dov. Defense establishment officials believe that much like the previous incident in the area last year, Hezbollah took advantage of the tricky terrain and the fact there is no border fence at the mountain's extensions to plant the explosives and detonate them from afar.

Israel and Lebanon are technically at war but their 80-km (50-mile) border has been largely quiet since the 2006 conflict.

Hezbollah members have been fighting alongside forces loyal to President Bashar Assad in Syria's civil war. The move by Hezbollah, which is backed by Shi'ite Iran, has helped turn the tide of the war in Syria against insurgents seeking to oust Assad.

The group said it took the decision to fight in Syria to prevent jihadi fighters, like those from Nusra Front and Islamic State which seized parts of Syria and Iraq, from advancing into Lebanon.