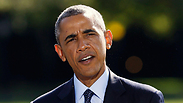 US President Barack Obama
Photo: Reuters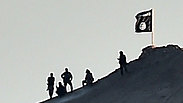 Islamic State flag over Kobani
Photo: AFP
Top diplomats from the US and Britain said Wednesday they would consider supporting a buffer zone inside Syria to help protect Turkey's borders, but a Pentagon spokesman said that is not an option that is currently on the table.

Meanwhile, US President Barack Obama huddled with the top US military brass to assess whether their campaign to defeat the extremist group is working.




When asked about a buffer zone after an hour-long meeting in Washington, Secretary of State John Kerry British and visiting British Foreign Secretary Philip Hammond both stopped short of embracing one. The sue comes as the US is prodding Ankara to ramp up action against the Islamic State militant group, which is closing in on the Syrian town of Kobani that sits on Turkey's border.

Turkey has long called for the creation of a buffer zone inside Syria as well as a no-fly zone to secure Turkey's borders and stem the flow of refugees. But the Pentagon has maintained that doing so would be costly and controversial, largely because it would need to be accompanied by a no-fly zone overhead.

Both Kerry and Hammond told reporters that the concept of a buffer zone would need to be carefully examined, including with other nations, to see how it would work.

"But I certainly wouldn't want to rule it out at this stage," Hammond said.

Kerry said the issue would be raised later this week at a meeting of US officials and Turkish leaders. "It's worth examining. It's worth looking at very, very closely," Kerry said.

The siege on Kobani remains a top concern for both the US and Turkey, Kerry said, noting that American airstrikes have targeted militants nearing the border town.
Top brass
Obama on Wednesday will take the short trip across the Potomac River to the Pentagon, where top US commanders will brief Obama on the latest developments in the US-led military campaign.
Obama will also convene his National Security Council to discuss efforts to rebuild Iraq's beleaguered military, and train and arm Syrian opposition groups that the US hopes will battle the Islamic State on the ground so Western troops don't have to.
Two months after the US began launching airstrikes in Iraq that later expanded to Syria, the Islamic State group is far from crippled.

The Islamic group remains in control of most of the territory it has seized in Iraq and Syria, and its fighters appear on the verge of capturing the strategic town of Kobani near Turkey despite days of airstrikes by the US-led coalition. In other areas, Islamic State fighters have shrouded themselves within urban areas to elude efforts to oust them.
The group's resilience has raised doubts about the strength of his campaign and its ability to deal with the threat mostly from the air without putting US troops into combat on the ground - a step Obama has steadfastly refused to take.
While the Pentagon has spent up to $1.1 billion on its operations in Iraq and Syria since mid-June, the broader strategy has faced criticism on multiple fronts, including from Obama's former defense secretary, Leon Panetta.