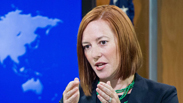 State Department spokeswoman Jen Psaki
Photo: AFP
Israel must play a role in the reconstruction of the Gaza Strip, a top US official said Wednesday ahead of key donor talks in Cairo, also pressing all sides to agree to a lasting ceasefire.
US Secretary of State John Kerry will attend Sunday's reconstruction conference being co-hosted in Cairo by Egypt and Norway and billed by the US as a "major humanitarian assistance and reconstruction effort" after the devastating 50-day war between Israel and the Hamas militants who run the Gaza Strip.
The Palestinian government has unveiled a 76-page reconstruction plan for Gaza, calling for $4 billion to rebuild the war-battered territory, with the largest amount going to build housing for some 100,000 left homeless.
The Israeli military operation in the impoverished Gaza Strip killed nearly 2,200 Palestinians, while attacks by Gaza militants killed 73 on the Israeli side.
The war ended in August with a temporary ceasefire, and indirect negotiations for a permanent truce are due to resume under Egyptian mediation later this month.
Washington has already pledged some $118 million to help the Palestinians in Gaza and US State Department spokeswoman Jen Psaki said she expected "there are a range of countries in the international community who are going to be contributing" funds at the Cairo talks.
"We do think that Israel will need to play a role in Gaza reconstruction," Psaki stressed, questioned about whether the Jewish state had a responsibility to help repair the damage it inflicted.
"We were pleased to see that the UN, Israel and the Palestinian Authority agreed on procedures aimed at expediting the passage of relief materials into Gaza, while taking into account Israel's security needs," Psaki told reporters.
But she would not be drawn on whether US aid should be contingent on guarantees of a lasting ceasefire to ensure the money was not wasted in any future fighting.
"Ideally we'd like to see an agreement on a way forward for a sustainable ceasefire that addresses the long-term issues so we don't have the recurring conflict," Psaki said.
Kerry would likely have talks on the sidelines on the issue, "but it's not the primary focus. They'll have to reconvene the parties to have that discussion separately from this conference," she added.