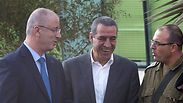 Hamdallah at the Erez border crossing
Photo: EPA
The ministers of the Palestinian unity government, headed by Prime Minister Rami Hamdallah, arrived in Gaza on Thursday morning to hold the government's first meeting in the Strip in seven years.

Dozens of Fatah security personnel loyal to President Mahmoud Abbas and policemen of the Hamas-led interior ministry in the enclave were out in force to protect Hamdallah, who did a walk-past inspection of a police guard of honor.

He was due to visit neighbourhoods destroyed in a 50-day war with Israel in July and August.

Ehab Bseiso, a government spokesman, said 12 Cabinet ministers left the West Bank on Thursday morning, en route to Gaza. The trip takes the ministers through Israel, including two Israeli-run crossings.

Related stories:

On his way into Gaza through the Erez border crossing, Hamdallah discussed the "historic opportunity" presented by this government meeting.

"We bring a message to our people in the Gaza Strip - the restoration of hope to Gaza, uniting the government's institutions and the rehabilitation of the Strip," he said.

Hamdallah said Palestinian President Mahmoud Abbas had clear instructions to the Palestinian government's ministers before they left for Gaza, "that we have to rehabilitate the Gaza Strip and make it better than what it was."

Upon entering the Strip, Hamdallah was welcomed by representatives of the different Palestinian factions in Gaza, where he also spoke to reporters.

"We have put years of division behind us and we have begun to consolidate reconciliation as a core step to lobby the international community and its influential powers to bear their responsibility towards rebuilding Gaza, which requires lifting the unjust (Israeli) blockade," Hamdallah said.

Israel has prevented the arrival in Gaza of many types of construction materials and other goods, fearing that Hamas could use them to manufacture rockets and other weapons.

Hamdallah stressed that he was in Gaza as Abbas' representative, sent to see with his own eyes and without intermediates the needs of the Gaza Strip.

"I come to you representing President Mahmoud Abbas and, as head of the government of national consensus, to assume our responsibilities, see your needs and launch a comprehensive workshop to salvage Gaza and bring relief to our people here," he said.

In Gaza, the ministers were to be joined by five colleagues who are based in the territory or arrived here earlier. The meeting will be held in Abbas' house in Gaza City in the early noon hours. The members of the government will then have lunch with the Hamas leadership in Gaza, headed by Ismail Haniyeh.

The unity government's ministers were expected stay in Gaza until Friday morning, stay at the five-star Mövenpick hotel and return to the West Bank through the Erez crossing.

Palestinian parties agreed last month that the unity government would assume immediate authority over Gaza before an international aid conference set for October 12 in Egypt's capital, Cairo. The two sides agreed to form a joint cabinet in May.

Hamdallah will leave the Gaza Strip and head straight to Cairo, for the international pledging conference where Western-backed Palestinian President Mahmoud Abbas will seek $4 billion for Gaza reconstruction following a 50-day war there this summer between Israel and Hamas.

By meeting in Gaza for the first time, the unity government of independent experts hopes to reassure donors that it can lead reconstruction efforts and that funds pledged for Gaza will not reach Hamas, shunned by the West as a terror group.

However, it remains unclear how much authority the unity government, which reports to Abbas, will have on the ground. The Islamic militant Hamas, which seized Gaza from Abbas in 2007, has said it will step aside, but has refused to disband its security forces.

Still, Hamas spokesman Sami Abu Zuhri sounded conciliatory when he greeted Hamdallah upon his arrival.

"We want to see the government carrying out its duties in Gaza and we are willing to help it as much as we can," he said.

The unity government was formed four months ago to replace rival governments in separate territories - one led by Hamas in Gaza and the other headed by Abbas in autonomous areas of the West Bank.

However, the new government hasn't been operating in Gaza until now, both because of unresolved disputes between Abbas and Hamas and because of the recent summer war.

Israel initially refused to deal with the unity government because it is backed by Hamas. Since the Gaza war, Israel has signaled readiness to work with the Palestinian Cabinet, particularly on Gaza reconstruction. And its willingness to accommodate the West Bank-based ministers' passage to Gaza appeared to be a sign of goodwill, coming as it does on a Jewish holiday when Gaza-Israel crossings are normally closed.

The Associated Press and Reuters contributed to this report.