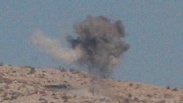 עשן הפגזה של צה"ל גבעה כפר שובא לבנון
Photo: Reuters
A joint committee of a UN peacekeeping force and the Lebanese Army claimed Wednesday that the IDF used cluster bombs in its retaliatory shelling of Hezbollah positions in southern Lebanon, according to Lebanese paper The Daily Star.

Security sources told The Daily Star that a team had identified the IDF position used to fire upon 10 areas in Kfar Shuba and the Shebaa Farms on Tuesday.

A Lebanese Army statement Wednesday claimed Israel fired 23 shells at a rate of three rounds per minute. There were no casualties in the IDF's response for Hezbollah detonating two explosives devices in the Mount Dov area, wounding two Israeli soldiers.

Hezbollah claimed responsibility for the attack – for the first time since the Second Lebanon War in 2006 – leading IDF to maintain increased alert during the Sukkot holiday, but it is not believed that the Lebanon-based terror group wants to escalate the tense situation.

However, Hezbollah's deputy leader released a statement warning Israel the attack was a signal to Israel.

"This is a message... Even though we are busy in Syria and on the eastern front in Lebanon our eyes remain open and our resistance is ready to confront the Israeli enemy," Sheikh Naim Qassem told Lebanese OTV television late on Tuesday.

According to Hezbollah's Al-Manar TV station, the attack was in response to the death of Hezbollah militant Hassan Ali Haidar last month in a reported explosion in Aadloun in Lebanon that the organization links to an Israeli intelligence device or UAV attack.

Roi Kais and the Associated Press contributed to this report.