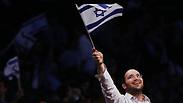 Israeli supporter at Barclays Center
Photo: AP
Leonard Petlakh, a local Jewish leader in New York City, was assaulted by pro-Palestinian protesters at the Barclays Center on Wednesday.

Petlakh, a 42-year-old who runs one of the largest sports centers in the community, was rushed to the hospital with a broken nose and required eight stitches.

He was beaten by the demonstrators in front of his children, 10 and 14, who were accompanying him to cheer on Maccabi Tel Aviv in their loss to the Brooklyn Nets.

According to the Jewish Daily Forward, Petlakh was upset that his sons witnessed the violence, but said that he hoped "it sends a strong message to them to stand up for their values as proud Americans and as those who will eventually volunteer to serve in the Israel Defense Forces."

Pro-Palestinian protesters chanted anti-Semitic statements in the arena when there was a call for donations to the IDF before the game. Other protesters also tried to disrupt the game by unfurling Palestinian flags on the court – they were removed by security.

The incidents continued after the game, when Petlakh was assaulted. The Jewish leader filed a complaint with the police, which has launched a hate-crime investigation, and called for increased police presence at sporting events connected to Israel.

According to American media outlets, the incident was captured on closed-circuit cameras and the police is reviewing the footage.