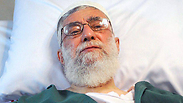 Khamenei after his surgery last month
Photo: EPA
Iran's Supreme Leader Ayatollah Ali Khamenei went hiking in the mountains north of Tehran on Friday, just one month after undergoing prostate surgery, his official website said.

The 75-year-old Khamenei, who is known to be fond of walks and hiking, was accompanied by his entourage on the hike early on Friday morning.

His website, khamenei.ir, said this was Khamenei's first time hiking since the surgery. It quotes the top leader as saying the hike was arranged on the recommendations of his physicians as physical exercise beneficial to the recovery process.

Khamenei, who has the final say on all state matters, has been Iran's top leader since 1989. He is a powerful defender of Iran's clerical rule established by his predecessor, the late Ayatollah Ruhollah Khomeini.