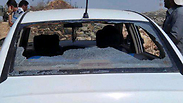 Several settlers have allegedly attacked a Palestinian family of farmers from the village of Yasuf on Saturday morning, while they were harvesting olives.

According to the family, seven settlers approached from the Tapuach outpost and assaulted them. A woman from the family was wounded in her leg and evacuated to the hospital in Salfit in light condition.



Army and police forces went deployed to the scene of the attack. An IDF force arrested two minors suspects who refused to identify themselves. Police took the two for questioning.

On Monday, the village's Palestinian residents arrived at their olive plots to discover dozens of olive trees were felled and hateful graffiti in Hebrew was sprayed on nearby rocks. It remains unclear when the trees were chopped down, though the Palestinians have estimated the trees were cut down recently because the olives on the cut branches were still green. Fifteen olive trees were felled in Burin as well. Police has opened an investigation into both of these incidents.

The olive harvest season has become a tense period in recent years, during which many hate crimes were committed.