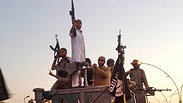 Islamic State fighters in Iraq
Photo: AP
Israeli Arab Ahmad Habashi, believed to have been fighting alongside Islamic State militants, was killed in a fire exchange in Iraq, his family was told on Saturday.

Relatives of Habashi, 23, said they received a phone call from another Israeli Arab who also joined the Islamic State's ranks, who told the family their son was killed.

Dozens of relatives and friends arrived at the family home in the village of Iksal, near Nazareth, to console the grieving family.

One of Habashi's relatives wrote on his Facebook "Allah Yerhamak (may Allah have mercy on you), cousin."

An Iksal resident told Ynet: "We heard about the guy from the Habashi family who infiltrated Syria a long time ago. Everyone kept quiet to avoid hurting his family, who were probably unhappy about this. Everyone in the village are talking about him. For them, it's a very unusual thing."

Related stories:

A man of religion also living in the area said: "Unfortunately, lately we've been hearing about a lot of youths and men of religion who support the Islamic State. I don't understand this. This is an organization that must be classified as a first-class terror organization."

He urged others to stop every IS supporter, "because they are very dangerous people. Today they just express support but tomorrow they might get orders to murder civilians and cause disasters inside (this) country."

Hashabi infiltrated Syria a year ago with Rabiya Shahade, 26, who was nicknamed "the Palestinian slayer." Shahade got married and four months later decided to infiltrate Syria. He chose Abu Musaav Alsafuri as his nom de guerre and when his son was born, he was named Musaav after his father's nickname.

The Islamic State has surged in popularity and won over supporters even in Israel. The Arab sector in Israel has been inundated with conversations and confrontations over the topic not only online, but also in cafés and mosques.

A physical confrontation erupted in a mosque in Israel because of an argument on ISIS, after one worshipper said "the Islamic State is the only one that can establish an Islamic state, and it is good they are punishing people. I hope they make it to Israel."

Fellow worshippers jumped the man, cursing at him. "You are terrorist scum, and you have nothing to say to us. Get out of here; we do not want to see your ilk." The situation did not improve until local residents intervened.

Nazareth police took down signs with verses from the Quran listed side-by-side with threatening messages. "We took down a big sign with an ISIS symbol next to hurtful, inciting statements like 'infidels that do not accept Islam – will have their limbs severed from their bodies.'"

The local police chief said he turned to the mayor when the signs were replaced. "It's unacceptable that we are trying to return tourists to the city and it is flooded with hateful signs."