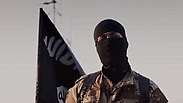 Islamic State fighter in Syria
TEHRAN – Iran has reportedly warned the US that ousting Syrian leader Bashar Assad in the guise of battling the Islamic State would endanger Israel.
The report in the Iranian media came as a senior Iranian official confirmed that his country and the US had exchanged messages over the fight against the militant group.
Deputy Foreign Minister Hossein Amir Abdollahian also was quoted Saturday by Iranian media as saying Iran warned Washington that Israel's security will be at risk should the US and its allies seek to topple the embattled Syrian president in the name of fighting the extremist group.
Iran has backed Assad during Syria's three-year civil war. The US has called for Assad to resign and rules out cooperating with his government in the fight against the Islamic State group.
Abdollahian's comments were the first time a senior Iranian official confirmed that Iran and the US had discussed fighting the Islamic State group.
Iranian officials have slammed the US policy on fighting Islamic State forces, after US Secretary of State John Kerry ruled out Iranian involvement in the broad coalition formed to fight the radical Islamist group.
Iran's Parliament Speaker Ali Larijani told Iranian media last month that "the US logic for annihilating the ISIL (an acronym for the Islamic State) will not result in reforms in the Middle-East and won't destroy the ISIL, rather it will cause an overwhelming fire of hatred in this region."
Last week, the Sunday Times reported that the Islamic State is preparing to wage war on Iran in order to obtain the secrets of its nuclear program, citing a manifesto attributed to a member of the Islamic State war cabinet that the newspaper had uncovered.