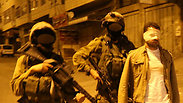 Duvdevan arrest operation
Photo: IDF Spokesman / Illustrative
Profile of an elite IDF soldier: Lessons I learned can't be learned anywhere else
Two reservist fighters from the Duvedevan unit have written a book about their experiences; here they discuss some memorable moments, including the 2002 arrest of Fatah strongman Marwan Barghouti and the hunt for the missing teens this summer.
"It grips me at night, every night. A few minutes before I fall asleep, I look at the wall, and the images jump out at me. Sometimes it's the blasting open of a door before entering the home of a wanted man. Sometimes it's the calls for the evacuation of wounded coming through on the radio. And sometimes it's the feeling of taking off your boots after a week in the field. I was discharged, I've traveled, I've studied, I've bought, I've sold, I've loved, I've f**ked and I've married; yet in that moment of silence, the only situations that come back to me are those with me in uniform with my weapon."
Thus begins For with Wise Advice (Yedioth Books), in which Einav and Ido – both 33 and both reserve officers in the Israel Defense Forces' Duvdevan Unit – recount experiences from their operational service. When it came time for the book to receive a stamp of approval from the powers that be, the descriptions of the operations were slimmed down and the writers' surnames were erased. The cover of the book bears only their first names, under which appears the line: Their full names have been withheld. The writers took it on the chin.
"The four years in which I served in Duvdevan were the most significant years I have ever had and ever will have in my life," states Ido, who has managed to accomplish a fair amount since his discharge from the army.
He's an accountant by profession; he has a doctorate in law; he's been working in London for his accounting firm for the past two and a half years, and he's studying business management at Cambridge. Apparently, however, none of it compares to his days in uniform. "When they speak to me at university about leadership," he says, "I always tell myself that the lessons I learned in the unit can't be learned anywhere else, as respected and prestigious as it may be."
More than undercover operatives
Ido and Einav enlisted into Duvdevan together in March 1999. The connection between them began at the IDF's induction base and is still going strong today. Despite the geographic distance between them, they still speak every day, and not a single conversation goes by without the word Duvdevan creeping in. In 2005, when the idea of the book first began to take root, they'd go away on weekends to a B&B in the north of Israel where they began putting their memories from the unit down in writing.
Then came the idea of turning the memories into a book so that future generations could learn of the unit's esprit de corps and operations. The name chosen for its title is taken from a line in the Book of Proverbs, Chapter 24, "For with wise advice thou shalt make thy war," which serves as the unit's motto.
For seven years, the two churned over events from their time in uniform, writing and deleting, attributing real stories to fictional heroes, and reliving their army days. During the 11 years since leaving the army, they continued to maintain strong ties with other fighters they had served with too. The unit's WhatsApp group occupies a central place in their lives. They also set up an association for veterans of the unit. Because both have been living abroad in recent years – Ido in London, Einav in New York – they often feel guilty about not doing reserve duty.
"The abduction of the three teenagers took me back in time, to similar incidents in which the unit played a central role," Einav says. "I followed from afar the operation to bring the boys back home, and when Operation Protective Edge started, it was very hard for me to be abroad, far from what was going on."
During his service in Duvdevan, Einav, who holds a law degree, received a commendation from Major General Moshe Kaplinsky, former IDF deputy chief of staff. Einav declines to go into detail.
"I received the commendation," he says, "prior to the release of the team under my command, for a long and intensive series of complex and successful operational activities. I used to say to the fighters that the best token of appreciation we can get for service in the unit is to see the quiet streets of Jerusalem when we return to the unit in the early hours of the morning after a successful operation, knowing that we've done something to allow this quiet to prevail."
Einav has spent the past year in New York, working for the Jewish Agency, and he's studying political campaign management. "I've been hooked up to the Code Red application ever since the days of Operation Pillar of Defense," he says, "and during the initial days of Protective Edge, my mobile was constantly alerting me to rocket fire. At every event I attended, I'd take out my phone and update those present about the rocket launches. At some point, I couldn't take it any longer and I decided to fly to Israel. Before boarding my flight, I informed the commander of my company that I was on my way.
"A few days after arriving, I was called up for reserve duty together with the team under my command. After undergoing a few days of training, they decided that only the regular forces would carry out missions inside Gaza, and we took over the daily tasks in Judea and Samaria. We were somewhat disappointed, but we all understood the importance of the tasks we were given. Among other things, we participated in the searches for the abductors of the teenagers. We were discharged two and half weeks later and I returned to New York."
Ido, on the other hand, was in England during the recent war, but he tried to console himself with the belief that his work there is of importance too. "In today's world," he says, "in which global public opinion plays a significant role, facing up to students from 20 countries at Cambridge University and engaging in a conversation about life in Israel in the shadow of terrorism and Qassam rocket fire is also important. That's what I did throughout Protective Edge."
Ido didn't tell his audience in Britain about Duvdevan, or about the undercover operations associated with its operations.
"Not everyone who has served in Duvdevan is an undercover operative," he says. "Undercover operations are simply one of the many tools we have, and only certain fighters do that kind of thing. These are super-talented individuals who have the ability to play a role in surroundings that are most unnatural to them. Not everyone is made for wandering around the Tulkarm market dressed as an elderly local who is suffering with back pain, walking slowly and hunched over. I was more taken with the challenge of leading a team of fighters and having them under my command."
Independence Day gift
One of the most significant incidents in which Ido played a part took place on April 15, 2002. He recounts the incident with caution, choosing his words and turn of phrase carefully.
"My team had just returned from nighttime activity in El Bireh," he recounts, "and we were immediately called out again. All we were told was that the individual in question was a senior figure in Ramallah. We didn't know who, but we got the sense that we were going for something really big this time. We quickly gathered weapons, break-in equipment and a ladder, loaded it all into a Savannah and drove to brigade headquarters, where a large and air-conditioned Safari awaited us. Within a minute, we and all the equipment were on board and we headed off Ramallah's A-Tira neighborhood.
"The traffic was light. The IDF controlled the axis roads. The city's residents weren't concerned with uprisings, but rather their own economic development. The Shin Bet security service had indicated to us that the high-ranking wanted man was in his apartment. We arrived at a three-story building; a large military force was on the scene. Commanders were talking to one another over the radio. Two handlers from the Oketz canine special forces unit were there with their dogs at the ready.
"We closed off the structure, and a few minutes before we went in to carry out the searches, they told us the name of the operation was Ray of Light. That was enough for us: We knew that was the codename for the capture of Tanzim forces chairman Marwan Barghouti. We were standing outside the building in which he was staying, ready to do the job, and I remember saying to my soldiers that at that point in time, we were about to become a part of history. An opportunity like that was worth all the tough training as a Duvdevan fighter."
Barghouti was seen as a potential heir to Yasser Arafat, and the IDF had been on his trail for a long time. Plans to capture him had been set in motion previously, only to be called off in the wake of unexpected developments. And then, during Operation Defensive Shield, things finally came together.
"Two Duvdevan fighters used megaphones to tell everyone in the building to come out," Ido continues. "A minute later, two people emerged with their hands on their heads. Neither was the man we were looking for. Some 15 minutes later, we received an order to enter the building and conduct searches. Barghouti was believed to be on the second floor. We opened the door and burst in.
"We didn't see anything in the first room. The home appeared empty. One of the fighters began a slow search of the place, and suddenly, out of the corner of his eye, he spotted a movement behind one of the sofas in the corner of the living room. He edged forward, sprung onto the figure and wrapped his arm around his head like you hold a rag doll. It was Barghouti, dressed in boxer shorts and a t-shirt."
Did he try to resist? Did you exchange words?
"He didn't resist. He only said: 'Don't touch me, I'm a diplomat.'"
And did anyone touch him?
"Someone whispered in his ear: 'It was simply a matter of time. We always get there in the end.' We blindfolded him with a piece of cloth and carefully escorted him down the stairs."
Following his capture, Barghouti was tried, convicted and sentenced to five life terms. At the Independence Day ceremony that took place at the Duvdevan base the day after the capture, the unit's master sergeant declared: "On behalf of the State of Israel, I bless you for the special gift you have given the country for its 54th birthday."
Ido recounts: "The day after the operation, the front page of Yedioth Ahronoth featured a photograph of the team handing over Barghouti to the division commanders. We hung up that page in our barracks, and the other fighters would come to see it and we'd fill them in on the details of the operation. I'm still filled with pride today for having played a part in it."
Did you ever find yourself thinking about the other side during the operations in which you participated?
"The army, and certainly the Duvdevan unit, is careful not to harm civilians. When I go to arrest a wanted individual, I get background intelligence on him, and I can clearly see that he's no saint. I tell myself that he, who plans to blow himself up in the middle of Tel Aviv, sees the world through different glasses to mine, that he's been brainwashed and that as far as he's concerned, we're the evil ones in the whole story. His way of solving things is to join the cycle of terror against us, and I have to prevent him from carrying out his murderous plans.
"We often went into family homes at 2 in the morning. You enter the living room, where just a short while ago a family was sitting and watching television. You can smell the odors of the dishes in the kitchen, you see the piles of laundry and the mother who wakes up in a panic when we come to arrest her son. As fighters with values, we tried to draw a line between the wanted individual and the rest of his family.
"After Defensive Shield, we got to the home of a wanted man in the middle of the night and I spoke to his father in Hebrew. It turned out that he worked in a building in the area where I grew up, in the center of the country. That, as I see it, is part of the complexity of life here, and I have never allowed myself to forget that. I have always drummed it into my soldiers that only a small number of the Palestinian people are terrorists; most want to live in peace. At the same time, I've never felt uncomfortable with any operation in which I participated. We always carried out precise work to prevent terror attacks in Israel. My soldiers and I risked our lives to that end."
Politics? Perhaps
Einav and Ido can accurately sketch the profile of a Duvdevan fighter – someone who functions well and remains level-headed under uncertain circumstances. "I call it 'being on constant alert,'" says Ido. "You can be sitting in your underwear in your room on base, leisurely drinking a coffee, and then within seconds switch to operational mode because you are needed. The transitions in the unit are very sharp, and anyone who is unable to make those switches won't last."
Both Ido and Einav struggled to make the switch to civilian life, and both recall the strange feeling they had the day they were discharged.
"I looked on from the side at the guys who were shaking our hands, who were embracing us and bidding farewell," Ido recalls, "and I thought: They recruited us at 18, turned us into zeros during basic training, rebuilt us as fighters, included us in vital operations for the security of the state – and now they're simply letting us go. They were saying to us in fact: Get by on your own, you've played your part, we can carry on without you. To some extent, that was a breaking point for me.
"As a fighter and officer in Duvdevan, I felt I was doing something of significance for the good of society and the country. Since my discharge, I've focused only on building myself – studies and a career. I think about that sometimes and get bummed out, but I know that one day in the future I will use my abilities to do good for the country – and then I'll be able to relax."
Einav says he's planning a future in public service. Ido promises to join him. "When we get back to Israel, I'm sure we'll go away again to a B&B in the north and work on the options," they chuckle. Politics? Definitely a possibility. It doesn't seem like a fantasy."