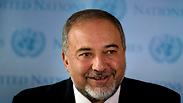 Foreign Minister Avigdor Lieberman
Photo: Reuters
Hours before the Gaza aid conference in Cairo begins on Sunday, Foreign Minister Avigdor Lieberman told Ynet that "there are no American demands" of Israel and that the two countries have reached an understanding on Israel's role in the reconstruction of the Strip.

Lieberman, who spoke to US Secretary of State John Kerry on Saturday night, said that Israel was "definitely interested in the civil restoration of Gaza. We definitely want to talk more about supervision mechanisms to oversee how materials and money is transferred" to the Strip. Jerusalem and Washington, the foreign minister stressed, have reached "quite a few understandings" on these issues.

Lieberman insisted it "wasn't true Israel was not participating" in the Gaza aid conference. "You can't reconstruct Gaza without Israeli participation and without Israeli cooperation. The equipment goes through our border passes, so it's clear to everyone that you cannot move forward without Israeli cooperation."

"In any case, we will try to be positive about the civil infrastructure and the rehabilitation of civilians," he noted. "We have nothing against kindergartens or schools or clinics," he added.

Lieberman stressed it was important for the Palestinian Authority to establish its control in Gaza. "There's no doubt it's better than Hamas. How much control the PA will have, and whether it's rule will be completely symbolic and Hamas remains in control remains to be seen."

In any case, he said, "at the moment, the PA will be at the forefront. I don't see a true desire to cooperate in Hamas."
'Unilateral Palestinian moves will fail'
The foreign minister dismissed Palestinian intention to pass a resolution at the UN Security Council setting a deadline for Israeli withdrawal from the West Bank and East Jerusalem, noting the world was too busy dealing with Ebola and the Islamic State threat for the Palestinian initiative to gain any traction.

"All sorts of wheeler-dealers are trying to push a unilateral move. Everyone knows it won't work," he said, noting that he spoke to several European foreign ministers who all agreed a withdrawal could not be forced on Israel and had to come as part of an agreement between the two sides.

Officials in Washington said over the weekend that Secretary of State Kerry intended to push for the renewal of peace talks in his meeting in Cairo with PA President Abbas, on the sidelines of the Gaza aid conference.

"The option of renewing peace talks is in being thrown around," Lieberman said. "There's the Palestinian initiative, and there's no doubt all sorts of other initiatives on the Palestinian issue will come up. But it depends what we intend to talk about in these talks, and what is the outline of the talks."

"If this is going to be unilateral, as the Palestinians want, it's a useless endeavor," he determined. "It's clear our security demands are not unrealistic. It's not like we're making something up. Security is a critical issue for us, everyone understands that."

Sweden's Foreign Minister Margot Wallström called Liberman before the Sukkot holiday in an attempt to ease tensions between the two countries, inflamed after Sweden announced it would recognize the state of Palestine.

"We agreed to meet in Europe the first chance we get," Lieberman said. "I told her, 'before you make any sort of decision, it is only appropriate you listen to our side, learn the map.'"

"There's a new government there that needs to learn what's going on here. An article I published in a Swedish newspaper started a public debate," he said. "I don't know if it led to real change there, because it's a left-wing government, but it's obvious we have to talk, and sit and listen. Can we convince them? I'm not sure. But at least we want to listen and make a difference."

Aren't you afraid of boycotts against Israel?

"They're not talking about boycotts or anything of the sort. They're talking about recognizing a Palestinian state. There are states that have already recognized Palestine, but none in the European Union. This is the first time a country in the EU talks like this. But it's derived of internal interests. The reason for this internal political change is not the Palestinian issue. This decision was made during the elections, and part of it was an attempt to bring in the votes of the Muslim community in Sweden."

In their conversation on Saturday night, Lieberman and Kerry discussed the spreading of the Ebola virus around the globe, and Israel has offered to help in the fight against Ebola by setting up field hospitals in Sierra Leone and Liberia.

"Our help in the fight against Ebola is important," Lieberman noted. "There's an opportunity here for Israel to not be against the international community, but cooperate with it. We have things to contribute."

Israel will turn to Jewish communities and Jewish organizations worldwide in order to raise money and recruit volunteers to aid in the fight against Ebola, the foreign minister said.

On the issue of the Islamic State, Lieberman is pessimistic.

"We're seeing what's going on. The Islamic State is advancing both in Iraq towards Baghdad and towards taking over Kobani," he said. "You can't stop this with only airstrikes. At the end of the day, they'll have to launch a ground operation."