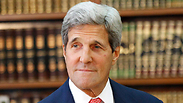 US Secretary of State John Kerry
Photo: Reuters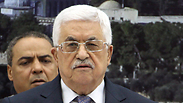 Palestinian President Mahmoud Abbas
Photo: EPA
CAIRO - An international donors' conference to help Gaza rebuild after the devastating, 50-day Israel-Hamas war this summer opened in Cairo on Sunday with participants expected to pledge hundreds of millions of dollars. The Gulf Arab state of Qatar said it would provide $1 billion, while the US committed to $212 million.
US Secretary of State John Kerry landed in Cairo early Sunday to lend US backing to the efforts and pledged $212 million in new aid to Palestinians. He also urged Israel and the Palestinians to return to peace talks.
Palestinian President Mahmoud Abbas spoke at the beginning of the conference Sunday and urged the participant nations to donate to Gaza, as well as urging the world to set up a binding timeframe for an Israeli withdrawal from the West Bank, much like the Palestinians are set to demand from the UN Security Council later this week.
Some 50 countries are to attend the talks, with Palestinians hoping for $4 billion in global pledges, despite wariness from donors that without a full peace treaty with Israel they may just be pouring money down the drain.
"Gaza needs $4 billion for rehabilitation and we are certain there is the international and regional will to do so. The Strip needs significant resources to return to normal," Abbas said, noting that in the last three operations in Gaza – Operation Protective Edge, Operation Pillar of Defense and Operation Cast Lead – over 80,000 structures were destroyed in Gaza.
"The aggression against Gaza are intolerable, we are all for calm and are working with the Egyptians," Abbas said. which he described as "tragedies that are difficult to be described by words ... Entire neighborhoods have been reduced to rubble and 90 families are no longer listed in the civil register."
Abbas urged Israel to return to peace talks, saying it must hold serious talks about final border arrangements while committing to a timeframe for its implementation. He further slammed Israel for what he described as its lack of commitment to the two-state solution.
The Palestinian president promised Gaza's residents that the Palestinian leadership will do everything in its power to aid them and alleviate their suffering.
"The (Palestinian) government will carry out the reconstruction plan with full responsibility and transparency in coordination with the UN, the donors, international financial institutions, civil society and the private sector," he said.
Abbas said that Palestine was a lucrative investment opportunity, which he said was being held back because of the Israeli occupation, which he claimed prevented the development of up to 60 percent of the West Bank – which is the relative size of the Israeli controlled Area C.
He accused Israel of stealing the West Bank's national resources, saying the loss for the Palestinians stands at $3 billion annually.
'Permanent calm, full authority'
Opening the conference, Egyptian President Abdel Fattah al-Sisi said the reconstruction of Gaza hinged on a "permanent calm" between Hamas and Israel. He said it also required the exercise of "full authority" by the Palestinian Authority, led by Western-backed President Mahmoud Abbas.
Al-Sisi urged Israel to consider launching new peace efforts based on an Arab initiative first presented in 2002 and rejected by the Jewish state.
"We should turn this moment into a real starting point to achieve a peace that secures stability and flourishing and renders the dream of coexistence a reality, and this is the vision of the Arab peace initiative," he said, noting that a "just" accord for the Palestinians was the only way to bring peace to the region.
The plan, put forward by Saudi Arabia at an Arab League summit in Beirut in 2002, offered full recognition of Israel but only if it gave up all land seized in the 1967 Six-Day War and agreed to a "just solution" for Palestinian refugees.
Egypt has had tense relations with Gaza's Hamas rulers since the Egyptian military ousted Islamist President Mohammed Morsi in July last year and threw its weight behind the administration of Abbas in the West Bank. Egypt and Israel have enforced a blockade of Gaza since 2007, the year Hamas seized the strip from Abbas' government.
Sisi said the conference sent a message that "the status quo must not continue, cannot be returned to, and that any attempt to bring about temporary stability will not last long."
"I tell the Israelis, both citizens and government: The time has come to end the conflict without further delay, to grant rights and establish justice so that prosperity and security can prevail," the Egyptian leader said.
The EU's Ashton appeared to back the arguments of Abbas and el-Sissi.
"I want to stress one more time that the solution for Gaza cannot be found in Gaza alone," she said. "Only a credible resumption of the peace negotiations can allow for a durable solution to the current crisis."
'Powder keg'
The Gaza Strip "remains a powder keg," UN Secretary General Ban Ki-moon said during his speech, adding that "Gaza remains a tinderbox, the inhabitants are desperate to see results in their daily lives."
"In 2009, the international community had already gathered" in Egypt to discuss Gaza's reconstruction after Operation Cast Lead, Ban said, adding that "We promised our support and we agreed to rebuild and now we are here again (...), the building-destruction cycle continues," he lamented.
Bottom line
At the conference Kerry also announced an additional $212 million in U.S. aid to Palestinians in the Gaza Strip, which was badly damaged during a conflict with Israel in July and August in which 2,100 Palestinians died, most of them civilians.
The Gulf Arab state of Qatar said on Sunday it would provide $1 billion: "The state of Qatar announces its participation with an amount of $1 billion for the reconstruction of Gaza," Qatari Foreign Minister Khaled al-Attiya said at the Cairo meeting.
An estimated 18,000 homes and vital infrastructure were destroyed in the seven-week war. The Palestinians have put the full cost of reconstruction at about $4 billion over three years.
Germany on Sunday also announced it would contribute 50 million euros ($63 million) to reconstruction efforts in Gaza.
"We can't allow the people in Gaza to sink into despair," German Foreign Minister Frank-Walter Steinmeier said in a statement.
The British ambassador to Egypt, John Casson, told Reuters London would provide $32 million for reconstruction.
The Associated Press, AFP and Reuters contributed to this report.