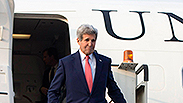 Kerry arriving in Cairo for the conference
Photo: Reuters
US Secretary of State John Kerry called on Sunday for a renewed commitment to achieving Middle East peace, saying a lasting deal between Israel, the Palestinians and all their neighbors could be achieved.

"Out of this conference must come not just money but a renewed commitment from everybody to work for peace that meets the aspirations of all, for Israelis, for Palestinians for all people of this region. And I promise you the full commitment of president Obama, myself and the United States to try to do that," Kerry told a Gaza reconstruction conference in Cairo.

"Everything else will be a band aid fix, not a long-term solution... Everything else will be the prisoner of impatience and that has brought us to this unacceptable and unstable status quo."

Kerry, who led an intensive peace effort that collapsed in April, will also use the conference to re-commit Washington to a two-state solution and keep the door open to negotiations, US officials said.

But they offered no specifics, and the chances for restarting the peace process soon appear dim.

Kerry plans to meet Palestinian President Mahmoud Abbas in Cairo and will seek to dissuade him from "very destabilizing" diplomatic moves, one US official said.

The Palestinians have threatened to seek membership in the international criminal court as a forum to accuse Israel of war crimes.

But US officials made clear they were encouraged by efforts by Abbas's government, which rules in the West Bank while Hamas holds sway in Gaza, to extend authority to the strip under a unity deal with the militant group, which Israel and the United States consider a terrorist organization.

Abbas also used the conference to urge Israel to return to peace talks, saying it must hold serious talks about final border arrangements while committing to a timeframe for its implementation. He further slammed Israel for what he described as its lack of commitment to the two-state solution.

Abbas praised the Arab initiative and said it could be the framework for a new comprehensive approach to the Palestinian-Israeli conflict.

"The international community should undertake its responsibilities by preventing the aggression, destruction, displacement and suffering of our Palestinian people and supporting our demand in ending Israel's occupation of our land and in realizing the vision of the two-state solution and the Arab peace initiative," he told the conference.

Opening the conference, Egyptian President Abdel Fattah al-Sisi joined the chorus of voices calling on Israel to consider launching new peace efforts.

"We should turn this moment into a real starting point to achieve a peace that secures stability and flourishing and renders the dream of coexistence a reality, and this is the vision of the Arab peace initiative," he said, noting that a "just" accord for the Palestinians was the only way to bring peace to the region.

The plan, put forward by Saudi Arabia at an Arab League summit in Beirut in 2002, offered full recognition of Israel but only if it gave up all land seized in the 1967 Six-Day War and agreed to a "just solution" for Palestinian refugees.

The Associated Press, Roi Kais and Elior Levy contributed to this report.