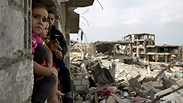 Palestinian kids in Gaza
Photo: AFP
Qatar has pledged $1 billion toward reconstruction of the Gaza Strip after a 50-day summer conflict between local militants and Israel.

"The state of Qatar announces its participation with an amount of $1 billion for the reconstruction of Gaza," Qatari Foreign Minister Khaled al-Attiya said at the Cairo meeting.

Some 50 countries are to attend the talks, with Palestinians hoping for $4 billion in global pledges, despite wariness from donors that without a full peace treaty with Israel they may just be pouring money down the drain, as the coastal strip has undergone three conflicts in six years.

US Secretary of State John Kerry announced immediate assistance of $212 million as the conference began.

The humanitarian challenge was "enormous," Kerry told the Cairo meeting, adding "the people of Gaza do need our help, desperately, not tomorrow, not next week, they need it now."

"Today I'm happy to announce an additional and immediate $212 million to the Palestinian people," he said, adding that the funds would go to relief and budget support for the PA.

"Taken together the US has provided more than $400 million to Palestinians over the last year, $330 million just since this summer's conflict began."

The United Arab Emirates also pledged $200 million. Germany on Sunday also announced it would contribute 50 million euros ($63 million) to reconstruction efforts in Gaza.

"We can't allow the people in Gaza to sink into despair," German Foreign Minister Frank-Walter Steinmeier said in a statement.

The British ambassador to Egypt, John Casson, told Reuters London would provide $32 million for reconstruction.

Palestinian President Mahmoud Abbas had said Gaza needs $4 billion, while UN chief Ban Ki-moon also warned that another conflict could erupt.

"Gaza remains a tinderbox, the people desperately need to see results in their daily lives," Ban said.

AFP, Reuters, the Associated Press, and Roi Kais contributed to this report.