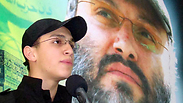 Jihad Mughniyeh with picture of father
Six years after Imad Mughniyeh, one of Hezbollah's senior military leaders, was assassinated, his son – Jihad Mughniyeh – was appointed as the terror group's commander in the Golan sector, according to a Syrian opposition member interviewed on CNN Arabic.

In the interview with the Dubai-based arm of the international news network, Mohd Razlan, a member of the Secretariat-General of the Syrian National Council, said the evidence points to Hezbollah's intent to expand its operations on the border with Israel.

Razlan warned of the potential for the group to create a crisis for the UN peacekeeping forces stationed in the area.

"We exposed the group's level of involvement in the Golan region during the takeover of the strategic Tel al-Harra. We have discovered many of the group's positions and evidence of its involvement in plans outlined for the Golan issue."

He said Hezbollah's plan for the region was long-term and talks of a possible withdrawal from Syria were a smokescreen.

Razlan noted that Mughniyeh junior, who is in his twenties, is close to Hezbollah Secretary-General Hassan Nasrallah, his own father's replacement – Mustafa Badr Al Din – and the Iranian Revolutionary Guards.

"The significance is the potential for a security escalation for Hezbollah in Syria. The matter is of great concern to the Free Syrian Army's intelligence, especially after the discovery of the documents in Tel al-Harra."

He called on the international community to treat Hezbollah likes the Islamic State group and warned that "The Syrian territory used by Hezbollah may be utilized to create a crisis between the Free Syrian Army and the UN forces."

Last week rebel forces of the Free Syrian Army and Jabhat al-Nusra captured the strategic point of Tel al-Harra – the highest position in the Quneitra suburbs. Clips uploaded by the rebels showed a listening outpost operated by the Syrian regime, likely with cooperation of Russia.

The rebels exposed numerous maps within the base, including of Israeli territory, with Russian captions: "Objectives and sources in Israel."