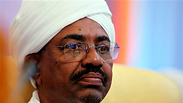 Sudan's President Omar al-Bashir
Photo: AP
After 20 years in which Sudan, a Sunni-majority state, maintained close strategic ties with Shi'ite Iran, cracks have begun to appear in the relationship between the two countries, who, according to foreign reports, have also cooperated against Israel.
There have been several reports in recent years about air raids on Sudanese territory against arms convoys reportedly transferring weapons to the Gaza Strip. Some of these attacks were attributed to Israel.
The public breaking point in the rift between Sudan and Iran happened last month, when Sudan expelled the Iranian cultural attaché and ordered the closure of all Iranian cultural centers in its territory. Sudan claimed that the centers had been promoting Shi'ite ideology in Sunni Sudan. The Sudanese Foreign Ministry said in a statement that the same centers had exceeded their mandate and "become a threat to intellectual and social security."
Initially, Iran denied the claims in an attempt to ease tensions. "It appears that certain groups in Sudan are trying to impair the good relations between Tehran and Khartoum," Iran's Deputy Foreign Minister for Arab and African Affairs Hossein Amir-Abdollahian said. However, Sudan insisted on continuing to openly criticize Iran, a move Iran termed a "provocation".
The final blow came Sunday, this time from the highest authority in Sudan - President Omar al-Bashir. The decision to close the Iranian culture centers "was a strategic step rather than a move to conceal the truth from Gulf States or gain their trust," he told Asharq Al-Awsat, a newspaper affiliated with Saudi Arabia, Shi'ite Iran's biggest Sunni rival.
"There are Shi'ites in Iraq, Lebanon, Syria and Yemen, among other places, (but) we cannot allow them to have a presence in Sudan," he added, noting Sudan did not want to be involved in fighting between Shi'ites and Alawites against Sunnis in various areas of the Middle East – primarily Syria, Lebanon and Iraq.
When asked about the nature of relations between the two countries, al-Bashir stressed that "there are no strategic ties between (Sudan) and Iran. Our ties with Iran are very normal."
Al-Bashir's decision to shut down the Iranian cultural centers is unlikely to have come out of the blue. According to various reports, the decision was made following pressure from Gulf states, led by Saudi Arabia, who are concerned by the Islamic Republic's attempts to spread the Shi'ite ideology in the Gulf region.
Relations between Khartoum and Riyadh have been strained in recent years, among other things because of the former's close ties to Tehran.
"We explained (to the Saudis) our view and the true image of our ties with Tehran was clarified," al-Bashir said. "All of the information that reached the Saudi leadership within this context was false, fabricated and exaggerated. This was clearly shown following the issuance of the recent decision stipulating the closure of Iranian culture centers."
According to reports in the Arab press, Saudi is the leading country for investment in Sudan, and the North African country's second largest trading partner, after China. At the same time, there are some who claim the decision to close the Iranian cultural centers was motivated by internal pressure from Salafists in Sudan, who openly speak of the "Shi'ite danger" and warn of the influence of the Iranian centers.
The first Iranian culture center in Sudan was opened in 1988, during the government of al-Bashir's predecessor, Ahmed al-Mirghani. The Iranian cultural centers' activity only increased after al-Bashir staged a military coup and wrested control of the country in 1989. There is a Shi'ite minority of some 12,000 in Sudan, who have just 15 houses of worship.
Over the years, the cooperation between Iran and Sudan has moved beyond the cultural aspect to security, which included an Iranian presence in Sudan, Iranian aid to al-Bashir in his military conflicts, and more. Iranian ships started docking at Port Sudan on the Red Sea on a regular basis and, according to several reports, Sudan worked with Iran to smuggle arms to Hamas through Sudanese territory.
Israel reportedly bombed arms convoys taking weapons to the Gaza Strip last July and in October 2012. Last March, the Israeli Navy took over the Iranian arms ship Klos C in the Red Sea that was on its way to Port Sudan as part of an intricate plan to get the arms into Gaza.
Sudan, however, has vehemently denied that it was aiding Iran smuggle weapons to Gaza, but Hamas leaders have turned into welcomed guests within its borders.
There are rifts in Khartoum and Tehran's military ties as well which have come to light in recent months. Sudanese Foreign Minister Ali Karti revealed in an interview that after explosions at a munitions factory in Yarmouk in October 2012, Sudan refused an Iranian proposal to build aerial defense systems in the western Red Sea. This revelation caused uproar, as these systems could have been used against Saudi Arabia, which is not far from Sudan.