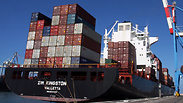 Zim ship in Haifa dock
Photo: Avishag Shaar-Yashuv
Israel Corp will list a company comprising some of its less profitable assets in Tel Aviv and New York and inject about $100 million into the business, it said on Monday.

Israel Corp, one of Israel's largest conglomerates, has planned to split into two companies for more than a year in an attempt to boost the value of its core businesses and attract a broader range of investors.

Under its plan, Israel Corp will continue to hold two of its most lucrative and stable companies - potash and specialty chemicals maker Israel Chemicals (ICL) and Oil Refineries, Israel's biggest refinery.

On Monday, it detailed plans for the spin-off company, Singapore-incorporated Kenon Holdings.

It will transfer to Kenon its holdings in five units: chipmaker TowerJazz, shipping line Zim, Qoros Automotive - a joint venture between Israel Corp and China's Chery Automobile - IC Power and IC Green Energy.

It will also extend a credit line of $200 million to Kenon.

An Israel Corp spokesman said the reorganization was expected to be completed by the end of 2014.

Earlier, the company said Avisar Paz, its chief financial officer, would take over as chief executive once the reorganization was complete.

Last month, CEO Nir Gilad said he would step down after eight years in the post following the restructuring.

Natan Yelovsky, a board member of subsidiary IC Power, will become acting CFO, Israel Corp said.

"The ... move is intended to create value for the company and all of its shareholders in the long term," Israel Corp said of its reorganization.

In a statement to the Tel Aviv Stock Exchange, it said the company would distribute to its shareholders "a dividend in kind ... of Kenon shares, including the listing of such shares for trade in both the New York stock exchange and the Tel Aviv Stock Exchange."

The transaction will not include the transfer of financial debt, it added.

Israel Corp also said it would examine the possibility of spinning off Oil Refineries.

Last month, Israel Corp sold a 6.2 percent stake of ICL as part of ICL's initial public offering on the New York Stock Exchange. It still holds some 46 percent.

Israel Corp's shares rose 3.2 percent on Monday.