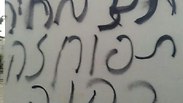 Wall of mosque in Aqraba, Tuesday morning
Unknown assailants set fire to a mosque and spray painted the words "price tag Tapuach" nearby in the Palestinian town of Aqraba, near Nablus, late Monday night. The mosque was partially burned in the attack. No injuries were reported.
The vandals also smashed the window of the mosque and threw in flammable material. Tapuach is the name of a West Bank settlement which has been connected to a number of such attacks.
Residents reported that they noticed smoke coming from the building before dawn and rushed to douse the flames, which damaged a carpet and blackened one of the walls.
"If we hadn't rushed to put out the fire the entire building could have gone up in flames," said Maher Fares, a villager.
Ghassan Daghlas, a Palestinian official from the Nablus area, said he suspected Jewish settlers in the area had carried out the attack. The settlement of Itamar is about 4 km (2.2 miles) north of Aqraba.
"They broke a window and threw a firebomb into the mosque which burned the carpet," Daghlas said.
Police forces arrived on the scene and said they launched an investigation into the incident.
The head of the Shomron Regional Council, Gershon Mesika, termed the attack "a despicable provocation," adding that it was "an ugly act of desecration that evokes disgust and contempt. The conduct of the different authorities is puzzling and questionable.
Mesika added that "although the authorities are familiar with members of this vigilante group, who commit acts of violence against Shomron residents...they are not taking any punitive measures against them."
On Saturday, police arrested two Israelis on suspicion that they attacked a family from the northern West Bank village of Yasuf that had been pruning olive trees as part of the harvest season.
Prior to the attack, Palestinian in the village discovered that dozens of their mature olive trees had been felled in a suspected "price tag" attack. Hebrew graffiti was sprayed on nearby rocks.
According to the family members, seven settlers approached them from the direction of the Jewish outpost of Tapuach West in the West Bank, and attacked them. One of the women in the family was wounded in her leg and evacuated in light condition to a hospital in the Palestinian city of Salfit. Members of the village said that forensic police officers had been at the site to gather evidence.
In recent years, the harvest season in the West Bank has become period of heightened tension, during which numerous hate crimes are committed.
Meanwhile, another 15 olive trees were found to have been vandalized in the nearby village of Burin, which also is located close to the settlements of Ariel and Kfar Tapuah. Olives had also been stripped from the trees, the residents of the village said.