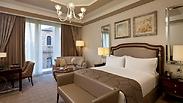 Jerusalem's Waldorf Astoria Hotel. Goal is to build 1,226 rooms within two years
Photo: Amit Goren
The shortage of hotel rooms in Jerusalem is a well-known problem which the Israeli capital has been dealing with for many years. Now, the Jerusalem Municipality and the Jerusalem Development Authority (JDA) are launching a move aimed at increasing the number of lodging places in the city.

The goal is to build 1,226 rooms within two years.

The plan allows every person in possession of land for residential, commercial or office purposes to change the land determination within a shorter period of time and issue building permits for accommodating tourists.

Costly Vacation

Jewish state ranks fourth on Hotels.com biannual report with 5% increase in hotel prices in first half of 2014 from first half of 2013.

The entrepreneur will be escorted by a JDA official throughout the process, and his or her request will be given priority among all the relevant bodies. This will help shorten the bureaucratic process from about three years to up to a year and a half.

The plan, which is about to hit the road, was approved in early 2014. The entrepreneur is no longer required to undergo an urban building scheme process, which takes a long time, and can immediately issue the building permits.

The first condition for submitting a request for accommodating tourists refers to the physical standards, the planning and the Tourism Ministry classification. In addition, the number of rooms an entrepreneur can build must be at least four and not higher than 24 in each building.

An addition of 11 to 24 rooms will award the entrepreneur a grant amounting to 28% of the total investment.