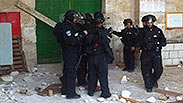 Police at Temple Mount
Photo: Police Spokesman
The overlapping of Jewish and Muslim holidays this year, and the increased tensions felt between the two faiths have highlighted the already volatile atmosphere in the Temple Mount complex. As a site holy to billions of people around the globe the compound is one of the thorniest sticking points in the Israel-Palestinian conflict.

To an outsider, a visit to the Temple Mount complex and the Al-Aqsa Mosque seem to reveal a delicate dance between two faiths and security forces, but a closer examination reveals a powder keg ready to explode and set the entire region ablaze. With Jews attempting to enter the complex, Muslim religious officials and worshipers fighting against their presence and scores of Christian tourists, it resembles a surreal action movie in the making.

Visit to the Temple Mount (Director: Assaf Kamar. Video Edit: Rotem Snir)

The site in Jerusalem's walled Old City has seen repeated disturbances over the years over what Palestinians say are fears of an Israeli threat to the site, which Muslims call the Noble Sanctuary. Israel denies any such threat - Jews also revere the site as the location of its two long-destroyed temples.

The compound, which includes the 7th-century, golden-hued Dome of the Rock, overlooks Jerusalem's Western Wall, revered by Jews as the last remnant of Second Temple. Both the first and the second temple are said to be located under the compound constructed by Herod.

During the Six-Day War of 1967, Israeli paratroopers managed to take the Temple Mound and at first, followers of all faiths were welcome. However, in wake of international pressure, religious control of the area was passed to the Jerusalem Islamic Waqf – an Islamic trust administration – and Jews were no longer granted permission pray.

Many a time the compound has turned into a battlefield pitting Israel security forces against Palestinian stone throwers, but a number of attacks have also targeted Muslim worshipers visting the Temple Mount: In 1969 a Messianic Australian tourist attempted to set the mosque ablaze; I the early 1980s, the Jewish Underground – a group of radical, extremist Jews – plotted to destroy the Dome of the Rock; in 1982, an Israeli soldier broke into the area and shot and killed a Waqf guard, wounding two officers in the process.
Rules for Jews
While Muslim worshipers are allowed to enter the complex throughout the entire day, Jews are allowed entry as visitors (not worshipers) between 7:30 am and 11 am, only through the Mughrabi Bridge and under heavy police protection.

Palestinians have grown aggrieved by the increasing number of visits to the site by Orthodox Jews, a program that is actively supported by Moshe Feiglin, an outspoken and far-right member of Prime Minister Benjamin Netanyahu's Likud party.

Those that visit are escorted by the police. If any of them pray, or have any Jewish or Israeli marking or paraphernalia on them – like an Israeli flag or prayer book - they are supposed to be expelled from the area.

The police, for their part, are stuck between a rock and a hard place: Besides Jewish provocations, Muslim worshipers are also prone to provocation, in particular young men and elderly women who have been known to insult the police officers and pelt Jewish visitors with objects. On occasion, things have become so heated that police have been forced to bar Jews altogether, fearing riots by the Muslim worshipers.

Entry for Israeli journalists and film crews is almost impossible. I had to join an organized tour group of French tourists, sneaking in with them.

As I entered to film, I passed a group of Jewish youths wearing skullcaps standing near the entrance to the complex. They had failed to pass the security check, and were thus barred from entering the area.

The shaky wooden bridge constructed to keep the Jewish and foreign visitors apart from the Muslim worshipers leads us to the gilded Dome of the Rock. At the heart of that ancient structure is the Foundation Stone. This rock, according to tradition, was witness to the biblical story of the Binding in which Abraham fulfilled God's command and came close to sacrificing his son Isaac or Ishmael, depending who you ask.

Dozens of Waqf inspectors are scattered around the compound, armed with two-way radios, questioning the tourists about their religious identity and their secret intentions. Any sign of the Jewish faith, attempts to pray or books in Hebrew immediately galvanize the study groups of Muslims men and women who simultaneously learn the Koran (separately of course) and maintain a state of alert for such an eventuality.

The noise in the complex is deafening. The cries of "Allahu Akbar" only intensify when a group of Jews with knitted skullcaps and beards are escorted out by police after one of the Waqf inspectors suspects that they have come here to pray.

The rapid removal of Jews suspected of praying is designed to prevent a fast escalation and the deployment of "Muslim squads" waiting patiently in the villages and neighborhoods around East Jerusalem. The speed of response and the determination of the police on the Temple Mount prevent physical violence between Muslims and Jews, so that the only option left for the warring camps is to engage in a shouting match.

The sounds of Jews singing and praying a few meters below, at the Western Wall and adjoining tunnels, permeate the Dome of the Rock plaza. The choirs of bearded men and veiled women in black compete for dominance with shouts and screams in Arabic of "Jews out! This place belongs to Muslims!"

Opposite, Chinese tourists are taking photographing of the golden dome and in particular of veiled women begging aggressively. For one brief moment, the shouting stops and organized tour group receives an explanation, which is the exact opposite of what they were told at the Western Wall tunnel.

Suddenly the screaming starts again. This time a group of women in black hijabs rushes amid cries of "Allahu Akbar" to expel a group of frightened-looking Israelis in secular dress, who are accompanied by a licensed guide who had dared to open a guide book in Hebrew.

Noam 'Dabul' Dvir and Reuters contributed to this report