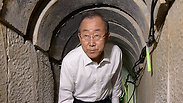 UN Secretary-General Ban
Photo: GPO
UN Secretary-General Ban Ki-moon visited the Gaza-border area on Tuesday and even toured inside a terror tunnel. He said he was astounded by the underground tunnel used by terrorists to infiltrate Israel.

The top UN official said he has repeatedly condemned Hamas' attacks from above and below, using rockets and tunnels, respectively. He emphasized that civilians should not have to live under threat and in fear of rockets and tunnels.

During his tour Ban met the family of Daniel Tragerman, the 4-year-old child who was killed by a mortar attack. His grandfather, Marcelo, criticized the visit by the top UN official. "My expectations are not nil, they're negative. It is a courtesy call that will not have any utility. He does not control the people in the Gaza Strip."

Four days before the end of Operation Protective Edge, a mortar shell was fired on Nahal Oz. Four-year-old Daniel was killed while trying to reach the fortified shelter. His parents, Gila and Doron, sent a letter to the UN secretary-general protesting the launch of an investigatory committee to examine claims of Israeli war crimes.

Daniel's grandfather said he was angry that Ban never responded to his parents. "It did not help that he never responded in any manner. I did not want to come here, but my wife insisted."

Marcelo Tragerman also expressed his disagreement with the creation of the committee, saying Ban "would not launch an investigatory committee on the murder of civilians, but will launch a committee to investigate Israel while completely ignoring the reality."

After meeting the UN secretary-general, Paulina Tragerman – Daniel's grandmother, said she believed Ban understood what they had suffered and that she knew there was not much he could do.

"I wanted to ask him if he can return (Daniel) to me, but that's impossible; in a moment they ruined our family," said Paulina.

She repeated that Ban had yet to respond to the letter from Daniel's parents. "Today he received it again and I hope this time Gila and Doron will get the proper response," she said, while noting that Ban was asked if he knew the source of the mortar that killed Daniel – he responded affirmatively.

.

The UN secretary-general spoke to the press after his meeting with the relatives. "What has he done wrong? Why did he have to die, without a chance to grow up? This is very sad. I conveyed my deepest condolences to the family. But I only hope that my words of condolences can help heal the wound; that may not be enough."

Ban said the only way to stop the violence was for Israel and the Palestinians to return to the negotiations table. "The two parties must address all these underlying issues to bring peace and harmony and security to two peoples.

"I have been meeting the leaders of both the Palestinian and Israeli governments; I am coming from Cairo after having attended the donor conference for Gaza reconstruction. I have been repeatedly saying that building and destroying, and building and destroying, that cycle must be stopped."