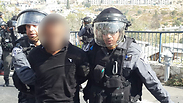 Police arrest rioter on Temple Mount
Photo: Mohammed Sinawi
Hundreds of Arabs protested Wednesday morning at the entrance to the Lions' Gate in Jerusalem against police decision to limit the age of Muslim worshippers wanting to enter Al-Aqsa Mosque to pray to over 50s.

צילום: מוחמד שינאווי

Several Arab MKs joined the protesters including Jamal Zahalka and Hanin Zoabi, who confronted the Border Police officers at the scene and told them: "We have a right to enter."

After the confrontation with the police, the Arab MKs were allowed entry to Temple Mount. However, after a situation assessment, the police decided to close the Temple Mount for visitors at 10:15am due to "operational considerations."

Following information received at the Jerusalem District Police regarding Arab youth's intentions to cause disturbances at the Temple Mount, its commander, Maj. Gen. Yossi Pariente, decided to bar worshippers under 50 from entering the Temple Mount.



The protest was also attended by Sheikh Kamal Khatib, the deputy leader of the northern branch of the Islamic Movement in Israel, as well as other Muslim leaders who called to defend al-Aqsa Mosque.

The protesters raised signs with the slogans "Al Aqsa belong to us, not to the Jews" and "We will enter the mosque with force and sacrifice our lives and our families' lives for al-Aqsa".

After entering the Temple Mount, Zoabi told Ynet that "we are standing here at the Al-Aqsa mosque facing Israeli hostility and in the very heart of the conflict. Israel is trying to take over and prove its sovereignty over the mosque. We see the struggle for Jerusalem's sovereignty as the capital of the Palestinian state to be at the heart of the Palestinian struggle."

Zoabi went on to say that "Israel's construction is a symbol of its denial of Palestinian rights even here. We're here on behalf of the Palestinian people. Israel is not just putting Gaza under blockade, but Jerusalem as well that is being cut off of its natural link to the West Bank. It's even preventing women from praying at Al-Aqsa. There's no solution without Palestinian sovereignty over Jerusalem, even if Netanyahu doesn't want this."

Elsewhere in the Old City, masked Palestinians threw stones and fired firecrackers at police forces deployed to the area. The police force pushed the rioters back using crowd dispersal means.

At the Gate of the Tribes, Arab youth hurled stones at police forces. Four of them were arrested while three policemen were lightly wounded from the stones being thrown at them.