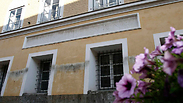 Hitler's home in Braunau
Photo: Reuters
VIENNA - Austria's interior ministry is appealing to other government departments to take over the house where Adolf Hitler was born in Braunau, amid a long-running debate over what should become of the building.

The interior ministry has rented the large pale yellow house where the future Nazi leader was born since 1972 and variously sublet it to a technical institute and an aid organization.

But it has stood empty since 2011 and the 4,600-euro ($5,820) monthly rent has become a drain on the ministry's finances.


The ministry is now contacting other Austrian ministries to see if they can use the 800-square-metre (8,610-square-foot) space and is hoping for a reply "by the end of the year", an official said Tuesday.

The fate of the house has been a matter of debate for years because of fears it could be used as a meeting point for Hitler sympathizers or fascist and neo-Nazi groups.

Related stories:

To prevent this, the rental contract stipulates that it must be used for a social or educational purpose and not as a museum.

The owner continues to have a say in who occupies the building and recently quashed a proposal to install an adult learning center or another aid organization on the premises, for reasons unknown.

Adolf Hitler was born at the address, Vorstadt 15 in Braunau am Inn, near the German border, on April 20, 1889 but only lived there for a few years before he and his family moved away.

In recent years, local authorities and historians have discussed whether to turn the building into a house of commemoration and reconciliation.

But nearly 70 years after Hitler committed suicide in his Berlin bunker in the dying days of World War II, only a stone memorial in front of the building reminds passers-by of its historical significance.

The memorial was carved out of rock from Mauthausen, the Austrian concentration camp where some 90,000 people were killed between 1938 and 1945, many of them from backbreaking labor in the infamous quarry.

An inscription reads: "For Freedom and Democracy. Millions of dead remind us 'Never again fascism'."

In 2012, concerns about another Hitler-related pilgrimage site prompted the removal of his parents' gravestone in the Austrian village of Leonding where he grew up.

The grave often attracted Hitler sympathizers, prompting an anti-extremist group to campaign for the tombstone to be taken away.

Despite the removal of the gravestone, the remains of Hitler's parents Alois, who died in 1903, and Klara, who passed away four years later, were not exhumed.