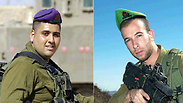 Yaniv Tuvitz (L) and Shaul Levin
Photos: Gadi Kabalo and Effi Shrir
Sergeant Yaniv Tuvitz dodged a sniper's bullet, came under mortar fire, and choked on his tears when he called his mother from out in the field; Sergeant Shaul Levin held a makeshift Shabbat ceremony in the heart of Gaza, evacuated wounded soldiers from a residence struck by a rocket, and lost a school friend – and both wrote all about it in personal journals they carried through the fighting in Operation Protective Edge.
Sergeant Shaul Levin, Nahal Brigade
It all started about a week before the operation. We're in the middle of officer training at the Lachish training base and are woken at five in the morning and told to get ourselves organized as quickly as possible because we're going down to Gaza tomorrow. On the one hand, everyone's super excited. On the other hand, the fears and the butterflies and the dark humor come rushing in. When we get to the line, we organize the living quarters, and from there we go to the Nahal training base in the Krayot – and then all the tension builds. Training, drills, replenishing equipment. The mood is crazy and everyone's already ready.
In the morning they tell me I'm being sent to do a crash course on an Achzarit APC at the Infantry School. Seconds before going back to the base, they call me and ask me to get to the assembly area as quickly as I can. That's it, I think we're going into Gaza that same day; I call my Dad and tell him that it's happening. I get to the central bus station in Be'er Sheva in fatigues, dusty from the crash course on the APC, with a flak jacket and a helmet. Among all the people who've come from home in clean and pressed uniforms, I feel like I've just returned from Lebanon.
When we get to the assembly area, we see all the madness. Tons of tanks, APCs, Achzarits, Code Red, bulldozers, good people who've come to spoil the soldiers, and Code Red again.
* * *
Going into Gaza today and the excitement is at its peak. I'm driving the company commander's Achzarit. That's it, darkness is falling, everyone's in a huge convoy – and we're going in! It's impossible to describe the feeling. One last look back at Israel, in the bleakest darkness there's been until now, and we're moving. We drive and drive across the Gaza sands, and as we move along we can see the air force bombings through our night-vision equipment.
The Engineers' D-9 forms a barrier for us with the sand. We're preparing for a three-day stay. Friday arrives, and it's the third in a row without the feeling of Shabbat in the air. I look for and find a protected spot on the sands, facing the north of the Strip, where we have a very quiet and powerful Shabbat ceremony.
The nights are terrible. An intolerable number of mosquitoes; they could win a war. Your sleep is broken time and again, because of guard duty and because of the sound of the booms. And yet, you still don't get the sense of Gaza. Even though they're toppling buildings just a meter away from us.
Sunday
They tell us on Sunday that we're getting out on pass and are then going into the Strip. I join the team and take command of the medical crew of the demolitions and engineering company. The mood is insane before going in – singing, face paint, hugs; and that's it, we start walking.
When we get to the neighborhood around Beit Hanoun, the fighting starts. We go from house to house, firing everywhere. From one of the homes we're about to burst into we suddenly hear a voice in Arabic, and everyone is primed for action. The door opens to reveal a family of 15 people, men, women, children and infants. We're in shock – how come they didn't flee the neighborhood after the bombings? A prisoner interrogator immediately shows up and questions them for two hours.
Night comes, darkness falls, and you can't see more than a meter in front of you. We can't turn on a light so as not to get a rocket on the house. We're all sweating like pigs, the flak jackets are killing us and we're just waiting for the moment we can take our shirts off and rub on some powder.
Whenever we receive an order on how to proceed, we're informed about incidents and casualties that have occurred in the operation. The same evening there's an incident in which four soldiers from Gefen Battalion are killed. One of them is Yuval Haiman, who was a year above me at school. I won't lie; it caused a lot of shock and a lot of grief.
Friday
When evening falls we want to have a Shabbat ceremony. We take Coke bottle tops and put them in a small glass with oil, and bread rolls covered with a piece of paper, and a glass of water for the blessing over the wine. Elisaf begins singing the Shabbat songs we all love. Everyone in the house joins in and there's not a dry eye to be seen.
When we finish everything, we're suddenly contacted on the radio; they give us a report about casualties among our forces and ask for my team to be ready to go out for an evacuation mission. We get to the house that was hit by a rocket and see the mess that is going on there. The commander was killed in the incident, soldiers were wounded.
I've seen wounded before, but to suddenly see your friends like that – it's hard. We start the evacuation work. My stretcher is carrying Meir, the most severely wounded one there, with shrapnel in his arm and leg. It turns out his arm is broken, but he shows resilience, and that makes it all worthwhile.
We begin retreating in the early hours of the morning; we're leaving the neighborhoods. We get to some fortified position and suddenly "Booooooom" – the air force bombs the neighborhood. The airplanes don't stop for an hour. Even Hollywood hasn't seen such effects.
Monday
I'm sick as a dog. A fever of 38 degrees and vomiting. I didn't sleep a wink all night. I'm crushed, can't move, and they decide to take me out of Gaza. I'm taken in an Achzarit to an unofficial assembly area; and truth be told, getting out does me the world of good. I take a long shower, change clothes, eat something normal, call my parents. I'm supposed to return to Gaza the following night, but then they announce a final withdrawal from there. I'm happy.
Sergeant Yaniv Tuvitz, Givati Brigade
Saturday evening, 12.7
The battalion gets scrambled to the assembly area for the first time. There's an air of tension among everyone. There we get an idea of the force with which the battalion is going in – D-9 bulldozers, engineering forces, dog handlers, Sky Rider drones. But we also understand that a ground invasion isn't something to be taken lightly, that the State of Israel is trying to avoid such a step. The talk about a lull intensifies.
Thursday, 17.7
We speak to our parents and girlfriends from the assembly areas, and somewhat nonchalantly inform them that we'll speak to them again in a few hours. But the picture changes this time, and in an instant. "20:30, everyone on their feet, we start moving," they tell us. Your heart starts pounding.
Shouts ring out at the assembly area. They tell us to get into the vehicles as quickly as possible and to be ready to head out. I'm completely stressed and afraid, wandering around among the Achzarits and not really knowing what to do. The first thing that comes to mind is to call home. I manage to get my hands on a phone, but I'm having a major blackout and can't remember the numbers.
I call a very good friend from home, a combat soldier too, in the hope that he'll answer and give me the numbers of my older brothers. I manage to get hold of him and he gives me the number of my brother, Yoni. I quickly write it down and say to him: "Love you, wish us luck." He understands that we're both going into the Strip today.
I call my brother. He answers, and I say to him, all-a-stutter: "Yoni, you'll hear all about it tonight already. Be with Mom and give her strength; I love you and promise to be in touch."
20:30 – the battalion begins moving towards the fence. We're all in the Achzarit, primed, tense, trying to accept the situation we are here for and that we've been waiting for all the time. The battalion moves forward slowly.
22:30 – we cross through the fence. Everyone realizes now that it's happening and we look at one another. The radio is packed now with the various voices of the commanders. Huge explosions can be heard in the background – the air force and armored corps have started their shelling.
The Sky Rider operator is sitting with us in the Achzarit. He moves his aircraft through the sky by means of a computer, conveying various warning to the battalion while he does so. Just then we get a warning about a booby trapped jeep and ambulances they they're trying to detonate against us, and the air force destroys them. A huge blast rings out. I look through the Achzarit's periscope and see a huge flame from the blast. That's the moment I truly comprehend the force with which we entered Gaza.
Saturday, 19.7
Shabbat in Gaza. We begin the morning with sad and spirit-breaking news. A Golani APC was hit and 12 fighters were killed. Your heart begins to pound. Two friends of mine from Golani went into the Strip, both from the same battalion. I start to feel really bad about them and I am constantly hounded by terrible thoughts. They come and tell us that the Golani Brigade commander was lightly wounded, a deputy battalion commander was killed, and a battalion commander is seriously hurt. We all look at one another in disbelief. Everyone's in total shock. I'm just about to go on guard duty. I'm wound up, looking in every direction with the machine gun and waiting for a confrontation. The fear that Hamas is going to fire an anti-tank rocket at us won't leave me, so I try to think about other things and sing songs. When I come back from guard duty, I head off to rest. Until they wake me.
When I get up, it's already evening. It's dark inside the house. The battalion commander shouts that they've received word about a strike planned against our forces by two terrorists, and he asks everyone to be ready for a confrontation. The IDF is intensifying its invasion of the Strip.
Sunday, 20.7
I've become a little accustomed to the situation I am in – to the fear, the concern for my company, the longing for home.
The "battalion commander's house" fills with soldiers who come for an assessment of the situation, and suddenly sniper fire is heard. Everyone hits the deck and lies on the floor. Hamas' attempt is unsuccessful, but the moment is a very frightening one and makes you think this and the other thoughts.
In the afternoon, the battalion commander gets a call informing him that the engineering corps has uncovered a really huge tunnel on the outskirts of Rafah – "a tunnel central station." We're to blow it up two hours later. I find time to go to sleep in a corner somewhere; I stink – like everyone else really – and fantasize about a good shower, my mother's food and my bed at home. I wonder when we'll get back to Israel, when we'll get out of here; but suddenly there's shouting in the house: We're told to get our gear on and lie down on the floor because there's a "Purple Rain" alert – Hamas is firing mortars at us with deafening booms.
Later in the afternoon I am again troubled by thoughts about my two friends from Golani. Maybe it's them? Maybe not? I only get more stressed.
At 02:00 in the night, I go into the house and I'm told to prepare my gear and get ready to pull out, that we're being replaced. At 04:00, the entire battalion is already on its way back to Israel in a convoy. I'm happy, but say to myself: It's not over until it's over.
On the drive back to Israel, everyone dozes off, and I'm the only one left awake, aside from the driver and the commander of the vehicle. I need to stay awake and be ready for anything. Some 20 minutes later, the driver slams on the brakes and I ask the commander, "Is there a fence in front of us?" He responds: "Yes, we're in Israel." And then I let out a good deep breath. Now I feel safe.
Monday, 21.7
At 08:00 in the morning, my immediate concern is finding a telephone to call my mother. I dial and my hand is trembling. I haven't spoken to her since Thursday. I tell myself to remain calm and not to fall apart on the phone with my mother.
When she answers, I hear such a broken and stressful "Hello." I start talking, ask, "Mom, what's up?" – and she starts to cry.
"Mom, how are you? How are you feeling? I'm fine, Mom. We pulled out of Gaza today. Everything's good; I'm alive and well."
My mother continues to express herself in tears, and I can't hold back any longer and start to cry too. We're both crying. I say to her in a choked-up voice: "Mom, what about my two friends, Ron and Dor? Tell me it's not them."
She says, "Yaniv, everyone's here; your friends are in contact with me. Everything is ok; it's not them. Take it easy." I feel significantly relieved, but continue crying. It's not easy going into Gaza; the fear breaks you.