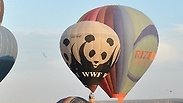 Hot ait balloon festival At the Gilboa
Photo: Israel Peretz
The International Hot Air Balloon Festival at Ma'ayan Harod in Gilboa Regional Council that took place on Monday and Tuesday was the largest held in Israel to this day.
Hot air balloon festival at Gilboa (צילום: חיים ג'ורנו)
Over 7,000 people came to see the spectacular sights and the dozens of teams who operated the balloons, including some who arrived from the United States, Germany, Belgium, the Netherlands and Austria.
.
As part of the event there were also various performances, such as skydiving from a high hot air balloon 2 km in the air, a fly over, motorized paragliding demonstration and fireworks display.