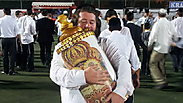 Simhat Torah is marked by 'akafot' or running circles with a Torah scroll
Photo: Moshe Michaeli
Everything you wanted to know about Simchat Torah but were afraid to ask
Initially there was only Shemini Atzeret - or the Eighth Day of Assembly - following Sukkot, but in Babylon Jews decided to add a second day marking the end of the annual cycle of Torah reading. Today, in Israel, both holidays are marked together.
Simhat Torah – Happiness of the Torah – is the lighthearted other half of the Jewish holiday of Shemini Atzeret – or the Eighth Day of Assembly – immediately following the seven day holiday of Sukkot. Simhat Torah is marked by "akafot" - or running circles - in which Jews run in a cylce holding Torah scroll.

The idea of an 'eighth day' indicates it is part of Sukkot, however, Sukkot is the "seven-day holiday" and thus the additional eighth day is a holiday in its own right, a holiday of assembly.

In the Torah, this day has no special significance, despite the fact that it is atzeret (assembly or gathering), a day signified as a holiday in which we need to rest from our weekly chores. In lack of any specific commands, like in Sukkot or Passover, it is more like Shavuot – also an atzeret holiday.

In the Book of Numbers' (Bamidbar) list of sacrificial rites for each holiday, only a single oxe needs to be slaughtered for the holiday, unlike the daily sacrifice of multiple oxen demanded during Sukkot. Also, during Shemini Atzeret Jews are required to pray for rain – beginning with the Musaf prayer.
Two holidays in one
In the time of the Jewish sages in Babylon, the ninth day, the day following Shemini Atzeret was marked as the day in which the annual cycle of the Torah reading reaches its end. Thus it is the day in which Jews move back to Geneses, to begin the cycle anew.

Thus the holiday of Simchat Torah was born – spreading from Babylon to the far corners of the Jewish Diaspora together with the treasure of the Talmud Bavli (Babylonian Talmud).

In the land of Israel the holiday did not make its mark, because the annual Torah cycle was spread out over a three year cycle instead. However, as more and more Jews began moving to Israel they imported their favorite holiday with them and because there was no ninth day in the land of Israel, they merged it with Shemini Atzeret.

From then and until now, Shemini Atzeret carries with it a double role – it is both Shemini Atzeret and Simchat Torah. Thus it back one of the busiest holiday in the Jewish calendar.

Abroad, in the Diaspora, it is spread out over two days, but here in Israel it's celebrated together: The heavy and serious Shemini Atzeret together with the lighthearted and joyous Simchat Torah.